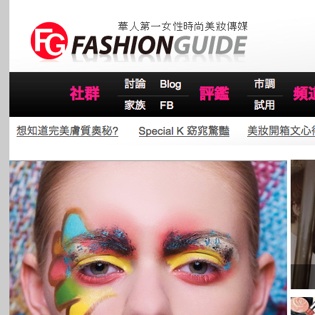 Japan's CyberAgent Ventures has had a Taiwan office for well over a year, and now the VC firm has yet another local site on its portfolio. This morning CyberAgent Ventures revealed its investment in Fashionguide, which it calls Taiwan's largest beauty and cosmetics-oriented social networking service, but no funding sum was disclosed.
Fashionguide is essentially a socially-equipped clothing and make-up portal that has a mix of news and lots of user-submitted product reviews and enthusiast fashion blogs. CyberAgent Ventures' Catherine Chang explains to TechinAsia that Fashionguide, although it looks fresh, has been around since 1997 and is one of Taiwan's top 100 sites by Alexa's rankings, with millions of monthly unique visitors.
The fashion site will use the funding, according to today's announcement, to launch a flurry of new sections and services "targeting related women's lifestyle categories" such as catalog shopping and hair design. The biggest boost will go to the recently launched 'Ai Piao Liang' (literally "Love Beauty") feature, which is a Pinterest-like social network for fashion and accessories. The hope of the CyberAgent VC office in Taiwan is that Fashionguide can "become the leading women's lifestyle portal in Taiwan."
Catherine tells us that the social portal has no current plans for expansion outside of the island. Fashionguide did venture into mainland China a few years ago but "found that market difficult to monetize." So the focus will remain on Taiwan "where ARPU is higher." The site monetizes with a mix of advertising and referral links, just as we've seen with Meilishuo in China.
CyberAgent Ventures' last funding round was in the Taiwanese social recipes startup iCook.
Today's announcement details that the Fashionguide investment "was made through CA-JAIC China Internet Fund II, which is jointly managed by CyberAgent Ventures and Japan Asia Investment Co."