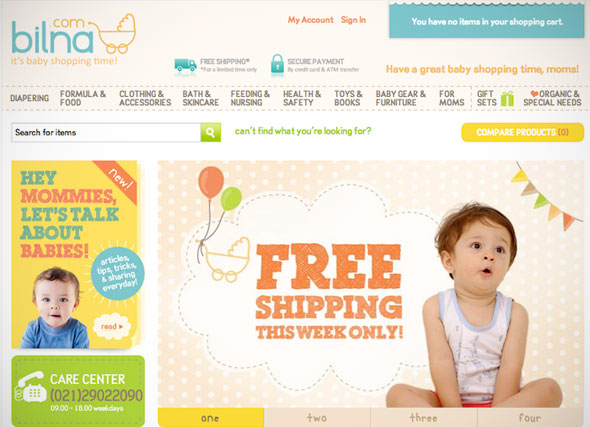 CyberAgent Ventures, the VC subsidiary of Japanese Internet company CyberAgent, has announced this week an investment in Bilna, an ecommerce platform for baby products in Indonesia. Terms of the deal were not revealed.
The founding team behind Bilna, Ferry Tenka, Jason Lamuda and Eka Himawan, are also the founders of group buying site Disdus, which were bought out by Groupon in April 2011. Bilna, which launched in July, sells formula and food, furniture, toys, clothes, as well as bath and skincare products for babies and toddlers.
CyberAgent Ventures is optimistic about the growth potential of Indonesia's ecommerce market.
"Judging from its recent market trend and performance of our existing portfolio company, there are clear signs indicating the rapid growth of the E-commerce market in Indonesia," it said in a press statement.
"Furthermore, due to economic growth, increase of personal income earnings and the growing population of Indonesia, we believe there is high demand of online shopping for babies and children related goods."
This is the VC firm's second investment in Indonesia. In April 2011, they funded a Series B round in Tokopedia, a platform for individuals and SMEs to create online storefronts.
CyberAgent Ventures has been very active in funding startups outside Japan recently. Find out what else have they been up to by following SGE's coverage.