E-commerce in the Asia-Pacific region is already huge, yet the potential for growth is still massive. According to the Asia Digital Marketing Yearbook 2012, the e-commerce market in Asia's big four — India, Australia, Japan, and China — is expected to almost double to US$497.9B by 2016.
Yet the region's overall Internet penetration is only at a low 26.2%, well below the global average of 41%. With so much untapped potential, it's unsurprising that many new startups have arisen to plug the gap.
If you're a merchant looking to dip your toes into the future of shopping, LiveJournal, Multiply, and eBay are some of the popular platforms to hop onto. But there are actually many other alternatives to consider. Here, we feature three of the newest e-commerce platforms from Singapore.
1) CuriousCatch.com: Curated flash sales + video shopping site for Asian designs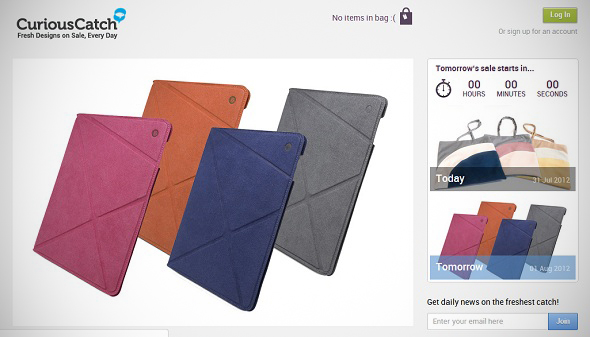 Launched today, CuriousCatch.com is bringing TV sales to the web and mobile era and making it ten times hipper.
Instead of selling tacky inventions, home appliances, and gym equipment, CuriousCatch's video shopping site hosts products like electronics accessories, handcrafted stationery, and bags from emerging boutique designers. Each flash sale lasts for 72 hours, and buyers can enjoy a discount of 15% or more.
According to the company's CEO Daylon Soh, their focus is on quality products that are well-designed and functional. As such, the CuriousCatch team will only pick items they think suit the site's philosophy. The site currently has more than 20 brands from Singapore, China, Malaysia, and Taiwan.
The use of video as a main selling vehicle is certainly interesting. It adds a more human touch to the buying and selling process, and far from being gimmicky, Daylon cites an observation by e-commerce giant Zappos that video demos tend to increase sales by 6 to 30%.
These videos solve another problem for emerging designers: They can use the content for their own marketing purposes, hence saving the need to make their own videos, which require a lot of technical and creative expertise.
CuriousCatch says that it has around 500 early users so far. They are mainly from Singapore.
2) Tinytrunk.com: Self-serve web marketplace for indie fashion retailers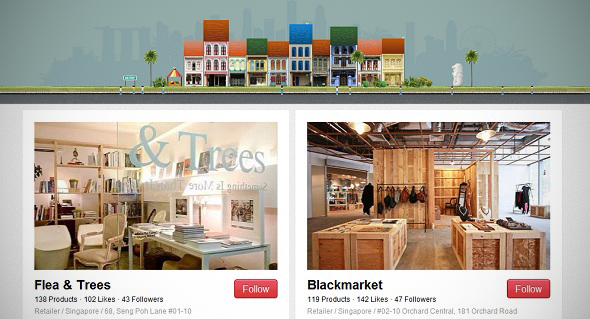 Tinytrunk.com has been around since February 2012, but has shifted from a curated platform for indie fashion retailers in Southeast Asia to a self-serve, create-a-store-in-minutes website. The merchants on Tinytrunk stock accessories, clothes, footwear, and other fashion items.
Founded by Jon Yongfook, who sold Open Source Food previously, Tinytrunk currently has 164 shops and 7 "neighborhoods",  which are actually groupings of stores with a physical presence in actual locations. Some of the neighborhoods include: Arab Street, Orchard, and Tiong Bahru.
(Read Founders flying solo: Jon Yongfook, John Fearon, and Douglas Gan chime in)
Another intriguing design choice for the free-to-join site are the pixelated, Liliputian people that occupy the top of every page, walking on a street with a row of shophouses. Occassionally, a speech bubble pops up, highlighting a particular item that a user has liked.
Far from being random choices, I think these elements serve to make the shopping experience more intimate by making Tinytrunk a virtual representation of real-world shopping belts. The tiny denizens aren't just cute; they give a sense that fellow shoppers are actively engaging with merchants on the website.
3) ArtKred.com: Self-serve e-commerce platform for affordable art works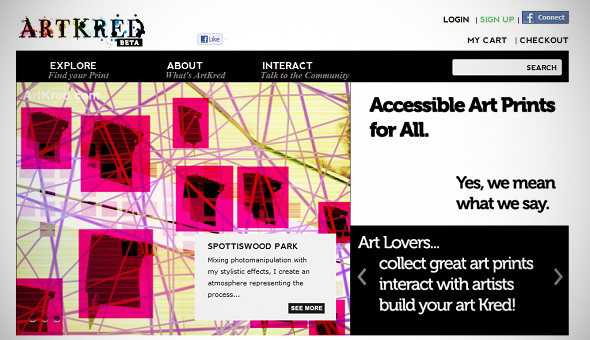 If you're an emerging artist in Asia, ArtKred.com might be the website for you. The free-to-join platform, which just entered beta last week, lets you create a profile and upload your art pieces. Buyers can opt to purchase them in three print sizes, and they might even be picked up by ArtKred's retail partners and get sold elsewhere. You will still retain full rights to your works.
ArtKred aims to make it as easy as possible for you to sell your creations. It takes care of printing, packaging, and shipping, leaving you more time to devote your efforts to your craft. For now, visitors can only make purchases via PayPal.
The website is similar to other online art sellers like 20×200 and society6, although I do think ArtKred could certainly improve its design. While functional, it doesn't quite have the look and feel that is deserving of a cutting edge website for emerging Asian artists.
Far from being a destination for art prints, ArtKred is also a community for art lovers. Buyers can take a sneak peek at the artists behind their creations, and join a forum to discuss and critique art. I can sense that the founders, Spencer Yang, Max Xu and Colby Peh, are not just in it to make a profit; they want to contribute to developing the arts scene in Asia.