Though crowdfunding remains a relatively new phenomenon in Japan, popular global platforms like Kickstarter and Indiegogo often feature projects based in or around the capital city of Tokyo. Some home-grown Japanese alternatives, like Campfire and Shooting Star are entering the mix, but are largely filled with "fund my trip to (insert country here)" requests and aspiring manga artists.
Tech in Asia rounded up six Japanese crowdfunding projects, ranging from interesting to absurd, with time still remaining. Get those credit cards handy!
Ditch the case and spray a protective coating on your smartphone
You might remember a viral video that made the rounds online a few years ago showing off a superhydrophobic spray called NeverWet that made chocolate sauce and mustard slide off of white clothing without leaving the slightest hint of a stain. Puracoat, which the company says was originally designed for waterproofing windows on high-rise buildings, achieves the same effect but was tweaked specifically for electronic devices. The spray uses nanotechnology to protect smartphones and tablets from scratches, water damage, dust, static, and bacteria – all while being non-toxic and safe on a variety of surfaces.
Puracoat says one 5ml bottle is enough for four smartphones or one full-sized tablet. The catch? Due to wear and tear, the spray must be re-applied every three to six months.
Indiegogo users must have been impressed, as Puracoat exceeded its goal of US$500 by more than 80 times (just over $41,000 at the time of writing). Funding ends on July 27 and the smallest pledge of US$18 gives you a bottle of the stuff.
Big physical buttons for making music and playing games with your mobile device
FourBeat wants to simplify our increasingly advanced mobile devices with bluetooth-enabled physical buttons that can be used for a variety of applications – from making drum beats to kid-friendly button-mashing games. The company includes its device-specific API with each peripheral, encouraging programmers to come up with interesting uses for the big, brightly-colored buttons. Two companion apps have already been created by Japan's own Goodia game studio.
Fourbeat is only three percent funded on Indiegogo with about a day to go. US$79 is the lowest pledge that includes your own set of buttons.
Make stackable circuit boards without getting zapped
Breadboards are indispensable tools for those learning how to make circuit boards. They're safer and simpler than the real thing because they don't require soldering. Tokyo-based Breadboard Maniac now wants to improve upon the standard Breadboard offering with its stackable Cakeboard. The thin boards are compatible with Raspberry Pi microcomputers. To get children interested in circuity, Cakeboard can also be connected to Lego blocks.
A US$30 pledge gets you a set of two Cakeboards and eight connectors for stacking them. Kickstarter funding ends on July 27 with about US$15,000 of the US$47,000 goal achieved so far.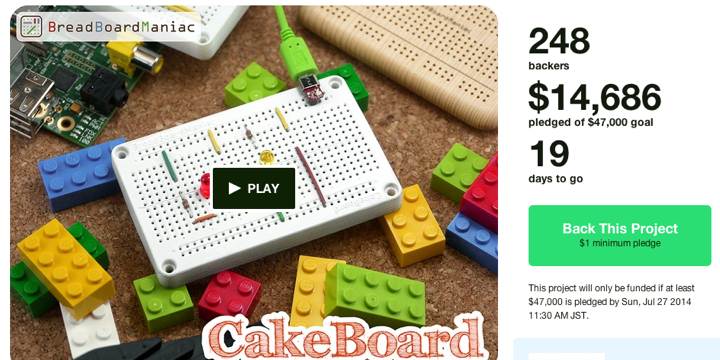 Get a stamp with your "name" in Japanese characters (results may vary)
Entire websites are devoted to making fun of (often Chinese and Japanese) translation mishaps. The tables were turned recently when some soccer stars were spotted with butchered kanji tattoos at the World Cup. Now, westerners can turn their own name into a nonsensical arrangement of the Chinese-inspired characters – and get a stamp with said "name" carved into it. Depending on pledge amount, the stamps are made from wood, ivory, or – for real ballers – titanium.
NinjaStamp will offer a smartphone app that breaks western names into Japanese-friendly syllables, then generates a list of appropriate kanji from a pool of 500,000 characters. SPWTECH, the company behind NinjaStamp, happens to be a recent graduate of the KDDI Mugen Labo seed accelerator. It promises to leave out bad words like "hemorrhoid" and "semen" to ensure that clueless gaijin don't generate an embarrassing or offensive name. An example on its funding page turns "George Bush" into 上侍風種 – which can be pronounced as Joji Busshu, but translates literally as "Upper Samurai Wind Seed."
NinjaStamp is about one-sixth of the way to being Kickstarted with 12 days to go.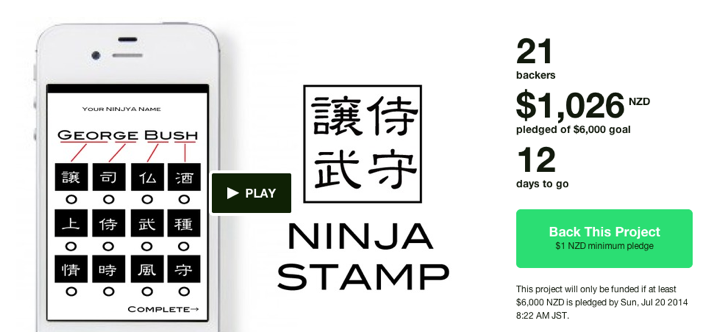 Things are about to get weird
Actually, it's not as bad as you think. This project hopes to fund bead bracelets made from "naturally aromatic" wood, including Japanese cypress and sandalwood. Each bracelet comes packaged in a glass bottle that mimics the shape and aesthetic of a cologne bottle (complete with a "Good Smelling Balls" label). The bottle actually preserves the wood's fragrance, the company says.
Putting up US$60 gets you a bracelet, a hand towel, and a touch-screen stylus pen/ball or pen/highlighter combo (with the company's cheeky name on it, of course). The project is a long way from being realized, with only US$250 out of US$20,000 pledged and 17 days to go.
See: Whill, an anti-wheelchair that'd make Professor X jealous, debuts on Kickstarter
Yes, you read that correctly
This list wouldn't be complete without at least one mention from a domestic crowdsourcing site, and this project on Campfire perfectly captures the weirdness that permeates Japanese pop culture. The perverted minds at Tokyo-based design company ekoD Works have designed a necklace meant to draw even more attention to a woman's bust by dangling a "diver" above the cleavage region. Choose from a skydiver, an Olympic diver, or – for the truly disturbed – what appears to be a Japanese salaryman that has jumped from the roof of his office building.
A pledge of JPY2,000 (US$20) gets your choice of one Cleavage Diver. Funding is 23 percent complete at the time of writing, with 17 days remaining.