Love flashing LED lights, privacy, and rabbits? If so, you're in luck! Here are six more quirky projects, currently crowdfunding in Japan.
Flashing LEDs surround your eyeballs, epileptics be warned
Other than telling time, smartwatches do little more than act as a notification middleman for those too preoccupied to reach into their pocket or handbag and glance at their smartphone screen. Now, for those too preoccupied to dig out their handset and raise their wrist to eye-level, comes eyeglass notifications.
Hold on a second – doesn't Google have this idea on lockdown? Yes, if you've got a spare US$1,500. For the rest of us, however, there's Fun'iki Ambient Glasses – which manage to pack a fraction of the tech in an even more obnoxious package. Glassholes be damned!
Aesthetically speaking, Fun'iki looks quite similar to a standard pair of prescription specs. But instead of a small screen displaying tidbits of information, Fun'iki relies on six embedded LEDs that literally light up the lenses. Different colors can sync to a variety of smartphone app alerts and a tiny speaker can also supplement the multi-colored strobing that engulfs you. An SDK will also be provided to developers who want to add Fun'iki support to their apps.
Gradation and tempo modes can can help you "stand out at clubs and parties," and if you get too drunk and find yourself floating in the open ocean, the Fun'iki app has a text-to-Morse-code feature.
Fun'iku is nearly 90 percent funded on Makuake (CyberAgent's own Japanese crowdfunding platform), with 32 days to go. A minimum pledge of JPY 10,000 (US$98) gets you one pair.
A miniature, industrial-style robotic arm for your desktop
Also funding on Makuake is Japanese robot-maker Vstone's miniature robotic arm. It can be controlled with a computer mouse or programmed (using C language) to complete simple tasks, such as arranging and stacking small cubes or drawing pictures. It comes pre-assembled in a custom carrying case with all the necessary accessories – simply mount it on the base and plug it into your computer via the included USB cable.
Vstone is planning to sell its robotic arm – which has far exceeded its fundraising goal with 12 days remaining – to the general public for JPY 38,000 (US$370) at some point down the road, but backers of its crowdfunding campaign can snag one for a minimum pledge of JPY 28,000 (US$273).
Only you – and those wearing polarized sunglasses – can watch you play Candy Crush
In a post-NSA scandal world, privacy has become paramount. While The Man can almost certainly gain access to your device if he really wants to, hiding what you're up to from those in your immediate vicinity can be achieved through stick-on privacy films. Taking that idea of physical privacy protection a step – rather, a leap – further is the iSpy Invisible Tablet.
iSpy is an actual piece of hardware with an advanced privacy screen built into it. Initially conceived as a medical application (for ophthalmic instruments), the quad-core Android tablet's seven-inch screen appears to be blank white unless you're wearing iSpy's polarized glasses. The generic tablet and glasses can be yours for a pledge of $199.
If you're more of an Apple person, iSpy will purchase a 16GB iPad Air (wifi model) on your behalf and rebuild it with one of their privacy screens for $999. AppleCare will probably be voided…
So far, iSpy has raised less than US$700 of its US$50,000 goal, but there are still 25 days to go.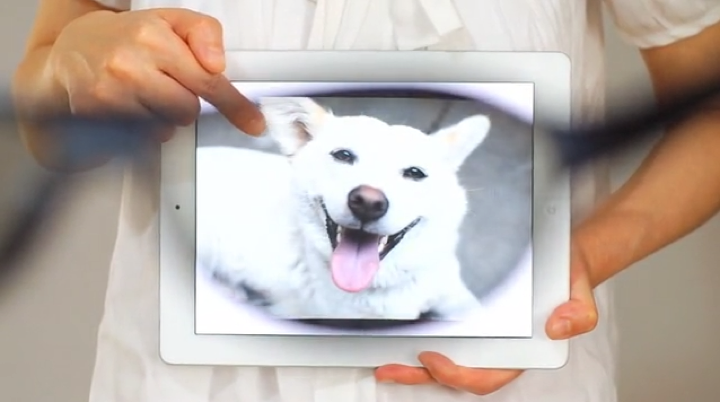 Shake-proof your iPhone videos with this mini stabilizer
As smartphone cameras continue to evolve, the device that we already can't leave home without is becoming an increasingly legitimate photography and videography tool. The iPhone 5s, for example, has been used to shoot a runway show for Burberry and a short documentary for Bentley. But most professional videographers who shoot with the iPhone use expensive mounts and stands, while amateurs are left hoping their motor skills don't get too shaky.
With Elephant Steady, a hand-held stabilizer for iPhone, anyone can shoot smooth, vibration-free video. The pocket-sized device utilizes two internal motors, connected via companion app to the iPhone's integrated gyroscope, to correct rolling and tilting.
For now, Elephant Steady works with iPhone 4S and above, but its adjustable grip should also accommodate a larger iPhone 6 (if Apple finally decides to take that route). An Android version is in the works. It has already exceeded its Kickstarter goal with eight days to go and can be yours for a minimum pledge of US$79.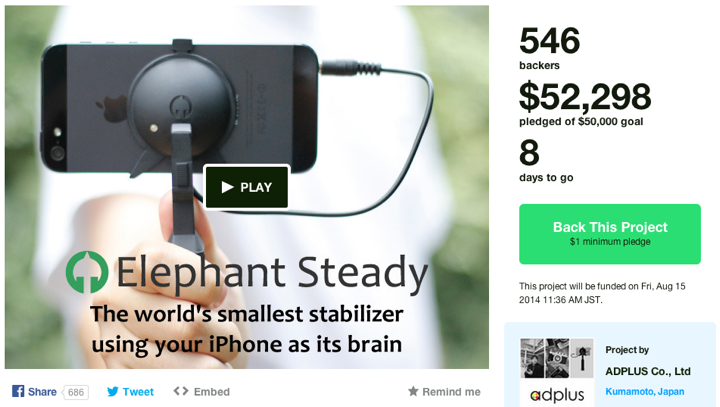 See: Crowdfunding in Japan: waterproof coating, stackable circuit boards, and 'good smelling balls'
A smartphone "appcessory" for mood lighting and more
Tokyo-based startup Vinclu has taken to Indiegogo to fund its nonverbal communication device Ayatori. The bird-shaped, LED-equipped dongle plugs into an iPhone's headphone jack (again, no Android love yet) and can be lit up using three companion apps: Match, Live, and Pair.
Match is a dating app – fill out a questionnaire and the Ayatori lights up when you get close to a person with similar hobbies and interests. Live can be used at concerts and other events as a kind of modern equivalent to raising a lit lighter. Pair is for couples to "express their feelings via light" by activating your partner's light or making it flicker (bow chicka bow wow). Ayatori also encourages developers to make their own apps by offering an open source code.
With 52 days on the clock, Ayatori has received just six percent of its total US$30,000 goal. A single Ayatori can be had for pledging US$25.
Rulers that depressingly match human years to pet years
Unless your pet is a tortoise or a parrot, animal lovers are often faced with a sad reality: our furry friends don't live nearly as long as humans. Enter Usagi (Rabbit) Memory – from the maker of Neko (Cat) Memory and Inu (Dog) Memory – a 15cm ruler that acts as a morbid reminder of just how little time you have left with Mr. Hoppy.
Did you know that 10 human years equal 76 rabbit years? That's the same as an American male's life expectancy. Are you crying yet?
Emotional masochists can procure two Usagi Memory rulers, available in four colors, for a minimum backing of JPY 2,000 (US$20) on domestic crowdfunding site Campfire. It is already more than 180 percent funded with one day left.