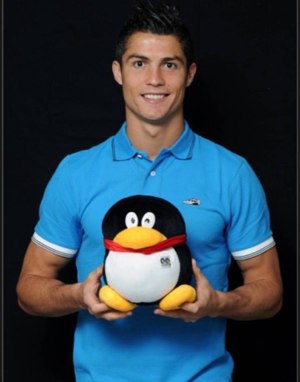 Rather awkwardly clutching a toy penguin, the Portuguese footballer Cristiano Ronaldo started tweeting on Tencent (HKG:0700) Weibo yesterday, in an attempt, he wrote, to "be closer to my Chinese fans."
Tencent Weibo might get less media coverage than its Sina (NASDAQ:SINA) microblogging counterpart, but it actually has more users, and its celebrity tweeters have a lot more followers. Cristian Ronaldo – who now plays for Real Madrid – might be hoping to soon have as many fans on the service as the Chinese athlete Liu Xiang, who at the moment has 23.4 million fans. That's more than double the figure of Sina Weibo's top celeb, the actress Yao Chen.
Cristiano Ronaldo's debut on Weibo appears to be either a paid-up promotional gig, or some clever marketing by some sponsors. He not only tweeted a photo of himself clutching the Tencent QQ mascot (pictured above) – that cutesy penguin – but also came prepared with a Tencent-made promo video (embedded below).
It's not clear if the footballer is authoring his own tweets, or whether this is all done by faceless marketing staffers. Either way, now that Tencent Weibo has an English interface, it'll be easier for him/them to navigate the site. His first tweet said:
Hello QQ users! I've opened this account to be closer to my chinese fans and happy to share exclusive contents with you. Stay tuned!
Cristiano – who has the affectionate nickname C Luo in Chinese – already has 110,000 followers, who are likely keen to get some insights into his acting footballing skills.
Take a look at C. Ronaldo's Weibo page; and here's the promo video: