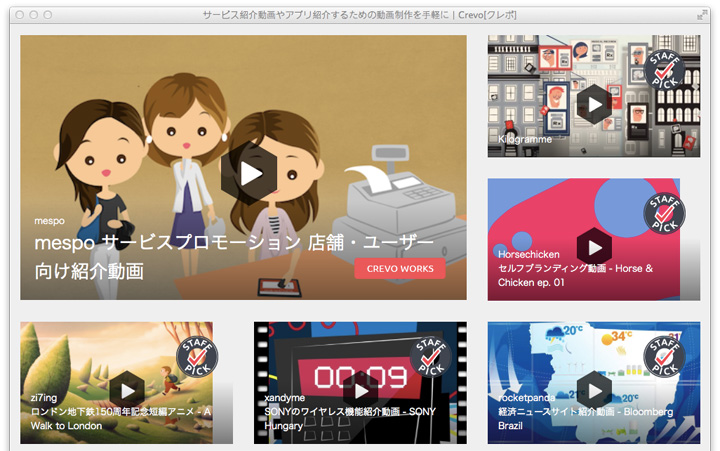 PurpleCow1, the company behind DesignClue, today launched Crevo, a crowdsourcing platform specifically for animation. While DesignClue focuses on crowdsourcing graphic design, Crevo focuses on crowdsourcing various types of digital animation and is only available in Japan for now.
(See: How to use crowdsourced design to boost your startup's productivity)
PurpleCow CEO and co-founder Kensuke Shibata explained that he sees more profit potential in the video animation market than in other markets. Revenue for an animation is eight times higher than that of illustration design.
With over 4,000 designers and creators already on DesignClue, Shibata says that it was easy to shift some of the video animators on that website over to Crevo. Crevo already has over 200 video animators on its platform, most of whom hail from Europe.
To bridge the language gap, Crevo will provide bilingual operators to work with its clients. These operators will then help to run the crowdsourcing campaigns after understanding each clients' needs. Like most crowdsourcing platforms, the operator and client will pick (and use) their favorite video submitted by animators on Crevo.
"Crevo will provide only original animation. Graphics will be designed from scratch for each customer to fit the story at a reasonable price," said Shibata.
After Japan, Shibata says that he will be looking to bring Crevo to Hong Kong, Taiwan, and China.
(Editing by Josh Horwitz)
---
Disclosure: East Ventures invests in PurpleCow and Tech in Asia. Please see our ethics page for more information.↩