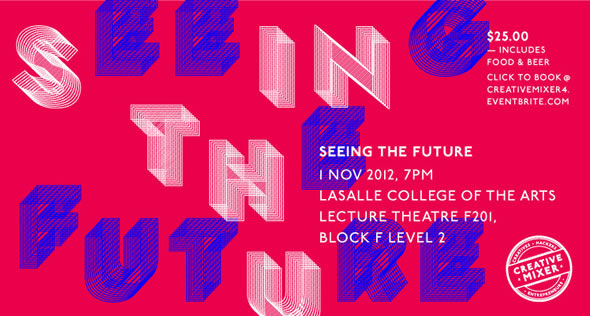 At last Thursday's Creative Mixer, the fourth in what has been an outstanding series of events for creatives, entrepreneurs and hackers, seven speakers shared about their work and its relevancy to the future. Themes that emerged include how we might be underestimating or overestimating the impact of current and changing technologies on our reality and that of others.
Nikki Shaw, a senior water engineer from Arup, shared with us how sanitation is one of the biggest issues we have to face in the future. A simple flush and all our shit disappears — that's something we take for granted. The ubiquitous flush toilet that most of us in the developed and developing world are so complacent about is an old technology and an inefficient one that results in water wastage and damage to the environment.
Not only that, there is an estimated 2.5 billion people in the world who do not have the 'proper' sanitation most of us in Singapore take for granted. This is an important issue because safe and sustainable sanitation is paramount to our well being and survival.
The Gates Foundation has recognized the importance of sanitation by recently announcing the winners of their "Reinvent the Toilet Challenge". When it comes to sanitation, those who have it underestimate its importance to us. At the same time, we also underestimate the difference this set of technologies can make to the lives of others without access to it.
Moving on to another topic, Scott Bales, Chief Mobile Officer of Movenbank, peppered his presentation with the launch dates of products like the iPhone (June 29, 2007) and services like Google.
It's superfluous to say that a child born after the launch of the iPhone will experience a different reality than those born before it, but for those transiting into the future, there is the distinct possibility that we underestimate that difference. As a result, entrepreneurs may fail to see opportunities to displace incumbent brands by catering to just the new generation.
An interesting counterpoint to Scott Bales talk was that of Daryl Arnold from Newton Circus whose company, together with SingTel, just launched Silverline, an initiative to put smartphones into the hands of seniors. Here, we face the danger of underestimating the impact to those left behind in the transition.
For the older generation, who have lived longer with certain technologies, the rapid change in the fields of communication and computing in recent years can inhibit their participation in the world. There are, to quote Daryl, opportunities to do good and do good business by helping these seniors transit and survive and even thrive in this changing technological landscape.
While not specifically targeted at entrepreneurs, events like Relay Room's Creative Mixer can benefit the adventurous entrepreneur who seeks out opportunities for serendipitous connections and cross-pollination of ideas.
To never miss an event, constantly check SGE's events listing.