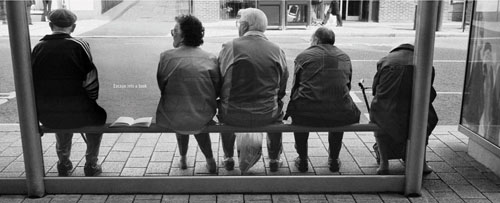 How much time have you spent waiting today?
I once read that people spend an estimation of 3 years waiting in 70 years of their lifetime.
Waiting can really be a pain and one thing I do not relish is the time spent waiting for a bus.
I often find myself filling time by reading bus stop poster ads but they are so passé aren't they? What I am about to show you are revolutionary bus stop ads, ads that are interactive, rules breaking and truly engaging. Ads that make bus waiting a breeze (some are so good you might miss your bus!) Sit tight and be wowed!
Quiksilver Skateboarding Platform
Fancy Skateboarding at this bus stop!

The Weighing Scale
If you are weight conscious, you can forget about enjoying the comfort of these seats. Or you can always visit FitnessFirst!

Orange Dispenser
Ever got hungry while waiting for a bus? Have an orange, courtesy of PruHealth!

McDonald's Puzzle
Stimulate your mind with this McDonald's puzzle. Keep your eye on the bus though!

Touch Screen Game
Bus stops are now the new gaming hub. Touch screen and all.

Walkie Talkie
What better time to let people try out your products than when they are utterly bored?

Swing
Swing away and relive your childhood memories!

Living Room
Throw in an air conditioner and I wouldn't mind waiting for an extra 10 minutes!

Bluetooth Transmitter
When this bus stop ad detects your mobile phone through its Bluetooth transmitters, it will send you a text message from Big Brother. You are being watched.

Visa's Eggs
Why put a poster when you can put eggs?

3M Security Glass
To prove how secure 3M's glass is, they are inviting you to steal the stacks of cash placed in this bus stop stand. Any takers?

Aquarium
Real fish. Makes your ad message impossible to ignore.