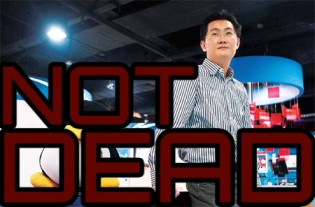 Perhaps some wires got crossed, or perhaps someone on weibo got even more tired of the spring festival news lull than I am and decided to drum up something interesting. Whatever the reason, something strange happened on weibo this week: people started reporting that Tencent CEO Pony Ma had died. Specifically, the fabricated report, which was passed along by thousands of people, said that Ma had died of a heart attack due to fatigue and excessive drinking at the People's Hospital in Shenzhen. This, of course, was total bullshit.
The rumor was debunked by Ma himself, who after learning of the rumor, posted this message to his weibo account:
I just got off the plane and got a WeChat message from a colleague, apparently an irresponsible verified weibo user is starting rumors; is this intentional or accidental?
It might well be intentional. According to the Beijing Times, rumors of Pony Ma's death by heart attack have been surfacing and resurfacing on the web since 2010, although there doesn't seem to be any basis at all to them as Mr. Ma is clearly not dead. This most recent outbreak of rumor seems especially unfounded given that Ma is apparently an ardent smoker but not a big drinker. Perhaps next year's rumor will be that he has died of lung cancer?
In any event, if you see this information floating around on the Chinese web, have no fear, the inventor of QQ and WeChat is alive and well.
(Beijing Times via Sina Tech)