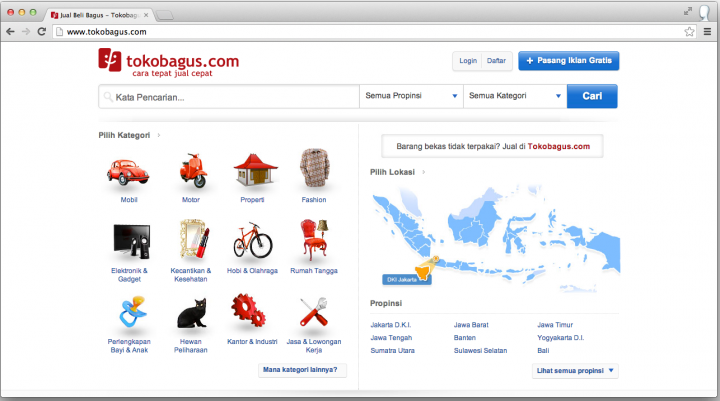 Indonesia's classifieds leader TokoBagus has been tight-lipped about sharing its key stats, but today the company had a change of heart and revealed devastating numbers for all other Indonesian marketplaces: the site passed one billion pageviews per month in July, and says that the company is on course to beating its initial forecast in terms of growth. COO Alif Priyono says:
We are also happy to see that our users are very engaged, with more than 25 pages per visit on average. Moreover, we here at Tokobagus.com are excited to learn that these results have put us among the top five largest online classifieds in emerging markets globally.
Priyono adds that the team expects TokoBagus to be among the top five largest classifieds sites in the world "once the Indonesian online market grows to its full potential in the future." The team explains that cars, motorcycles, and properties have become strong categories on the site with millions of visitors every month. Every day there are 50,000 new listings posted on TokoBagus.
Planning for the new year
TokoBagus plans to strengthen its consumer-to-consumer (C2C) focus next year by "putting everyday second-hand items at the center of its strategy." This can be seen through the company's TV commercials, which encourage users to sell items cluttering their households. The team – which recently refreshed its logo and introduced new tagline – will continue its strong push into Indonesian market with TV commercials, online marketing, and offline activities.
In terms of features, TokoBagus plans to introduce more support for sellers like prioritizing their listings on the site. Moreover, the team will heavily focus on improving its mobile user experience. In February TokoBagus introduced a revamped Android version of its app.
2013 has been an interesting year for TokoBagus; it's the first full year since new CEO Michal Klar took charge, replacing co-founders Remco Lupker and Arnold Egg. Back in April, Klar told us that TokoBagus records well over 10 million Indonesian visitors each month, with a total of 1.8 million ads active on the site.
TokoBagus' direct competition in Indonesia is Berniaga and online forum Kaskus. The latter recently saw a major transition as new CEO Sukan Makmuri took charge this month. The forum claims to have 600 million pageviews from 40 million users visiting the site every month.
(Editing by Paul Bischoff and Josh Horwitz)