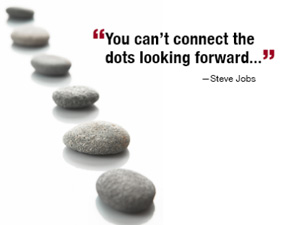 Many publications are flashing back the brilliant things that Steve Jobs had done during his time at Apple. They are connecting Jobs' "dots" for their readers, to consider Steve Jobs' brilliance – a perfect way to pay tribute to a great man.
Jobs said in his 2005 Stanford commencement address that you can only connect the dots looking backwards. You can't do that looking forward. True enough. There are many things in life that Jobs had done in the past that makes sense now but not at the point of time when the action actually took place.
Here's one. Instead of going through the usual college routine, Jobs chose to be a drop-out, and only attended lessons that interest him. Attending calligraphy class at Reed, for instance, was one that didn't make sense until Jobs was designing the first Mac computer. Turned out it was also the first computer with gorgeous typeface. Looking back at his life, his dots look very well connected, both as a student and as a skillful entrepreneur.
That led me to think hard and reflect… What would my dots look like? Can I connect them as smoothly if I were to look back at my past life-points?
It's been an awkward 24 hours because I didn't have such emotions and reflections for a long time, since my grandpa passed away. Even then, I was just ten years old and probably didn't have the maturity to reflect deeply. Jobs' death hit me hard and it's taking me some time to settle down. I believe many Apple fans out there are probably feeling the same.
But life still has to go on. So let's step back from mourning and start learning from Jobs' story and his brilliance and use these lessons learned to create the unique you. If we can only connect the dots looking backwards, then there isn't any point in fearing life – is that not the case? Follow your heart, and don't settle in until your interest is found. Stay hungry, stay foolish. By the time we each reach the age of 56, let's hope we can look back and be proud of what we have done, no matter how insignificant others think they are.
Written on an iPhone while I travel, and then on a MacBook when I'm home!
(Image credit: budirich)