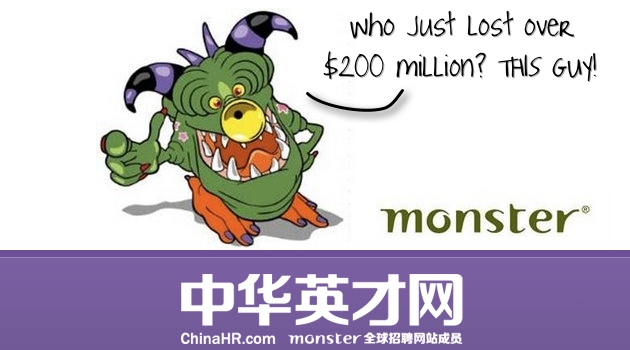 After months of confusion, and weeks of crises that culminated in protests and guards posted at the office doors, the troubled jobs listing site ChinaHR has finally been sold off. Previously owned by US-based Monster (NYSE:MWW), ChinaHR has now been bought by the Irish company behind IrishJobs.ie for a reported $30 million.
That $30 million figure has not been confirmed by either parties, but it is cited with confidence by The Irish Examiner today.
According to the new acquisition agreement, Monster retains a 10 percent stake in ChinaHR, while the new owners, MyJob and its Dublin-based parent company Saon Group, hold the remainder. The Irish company already has a Chinese jobs listings site at MyJob.com.
All this is in line with rumors we looked into recently that suggested ChinaHR was sold to MyJob for this relatively tiny sum. It means a monster-sized loss for Monster, who piled in over $240 million into ChinaHR from 2005 to 2008 as Monster's initial China investment turned into a major acquisition.
Saon Group operates across 29 countries. The ChinaHR acquisition boosts MyJob's reach to about 200 cities across China, as well as strengthening its presence in the country's major cities.
At the moment, the ChinaHR site (pictured) retains the same Monster co-branding as before.
But MyJob is still facing the same tough situation that caused ChinaHR to come undone, including strong homegrown competition from major web portals' own HR sites, as well as indie rivals such as 51Job and Zhaopin.
(Sources: Techweb and The Irish Examiner)