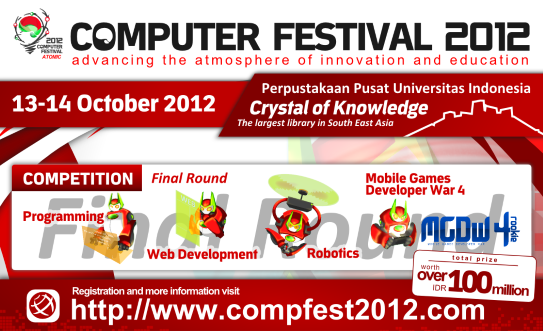 Computer Festival (CompFest) 2012 will be held on October 13th (tomorrow) and 14th at the Central Library in Indonesia University. Visitors can come and enjoy the various IT-related events, including seminars, competitions, talks, and exhibitions. Ikhsan Rahardian, the project officer of CompFest, promises loads of prizes from sponsors during the two-day event.
The registration for the seminars and competitions is already closed, but visitors can still come by and enjoy the free on-stage talks and expos held at the event. The talks will be held on October 13th, showcasing three game developer speakers from Divine Kids, Choco Arts, and augmented reality developer AR & Co. On October 14th, the exhibition will show off the finalists' products from its robotics, mobile games, and web development competition.
Ikhsan said that there are around 1,200 participants for the seminars, and around 1,500 participants for the four competition categories. With loads of sponsors, speakers, and an impressive number of media partners and participants, CompFest 2012 looks to be a very promising event. For more information regarding ComFest, you can check it here.
This is another tech event in an already jam-packed fall season in Indonesia. The IT exhibition Indocomtech 2012 and Jakarta Game Show are going to be held at the end of this month, with the IT conference and competition Appmazinc set to kick off in November. And let's not forget that our own Startup Asia Bandung Hackathon starts tomorrow, so please stay tuned over the weekend for more updates from that event.
Note: Tech in Asia is one of CompFest 2012's media partners.