Updated: 5 February

Company
Burpple offers a way for users to remember, organize and explore food moments with friends through pictures past and present. They envision a world connected through food moments. Burpple was founded in December 2011 in Singapore and is headquartered there.
Product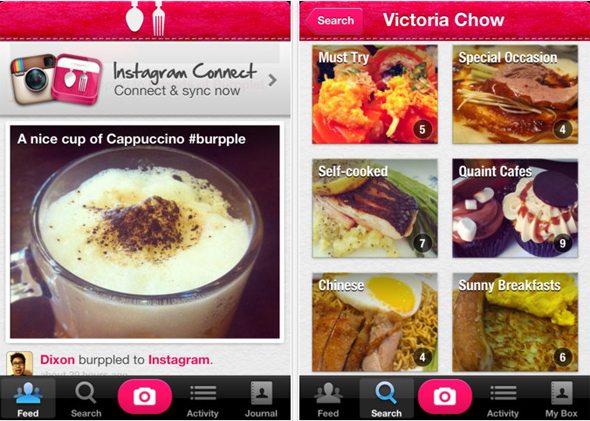 Burpple is a mobile social network and journal to remember and recommend food. Available as an iPhone app (download),  users can document the food they ate or cooked by snapping a picture and creating an entry stating the where, when, and what. They can group these entries into categories which they can edit or refer to later. Social features are embedded: Users can add their friends, see their entries, and like, share, or comment on these entries.
It has users in 140 countries and 4,000 cities, with over 300,000 food moments logged. Top 10 countries by usage: Singapore, Indonesia, Malaysia, Philippines, Australia, USA, Thailand, Japan, China, and Canada.
People
Daniel Hum, Dixon Chan, and Elisha Ong (co-founders)
Funding
Seed: USD 39,000 from YES! Startup, undisclosed amount from private investors
Angel (13 Dec 2012): USD 500k from Neoteny Labs, NRF, QuestVC
Milestones
Competitors
Foodspotting, SnapDish, Forkly
Contact
Website: www.burpple.com
Email: contact(at)burpple.com
Social media: Facebook, Twitter, Quora
Embed Burpple's timeline on your site
Just copy and paste this code: