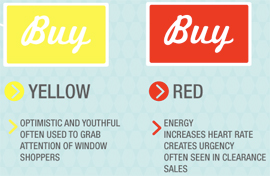 How do colors affect purchases? According to KISSmetrics, a popular web analytics start-up, the answer is 'a lot'.
Its study reflected that 93 percent of the consumers place aesthetic and color above other factors when shopping. Color is also strongly associated with branding with 80 percent of the consumers recognize a brand by its corporate color.
The infographic below also shares how different colors affect the mood of the consumers. Apparently, orange, black and royal blue are best suited to attract impulse shoppers and best used in fast food and clearance sales.
"When I provide marketing consulting services I am always amazed when I come across an extremely competent client who provides excellent work, but has a lousy website. It sort of makes me cringe inside… I believe when it comes to websites, especially of the social media variety, look and feel do count, Content is king, but sites also need to dress the part with pictures and graphics to support their information," Susan Bardack, chief marketing officer for iZoca.com, shared with us previously.
In terms of overall design, almost half of the shoppers wouldn't return because poor web aesthetics. About 2 out of 5 based their opinion of a website on overall design alone. The infographic below will provide you with the complete guide to understand the relationship between colors and marketing.