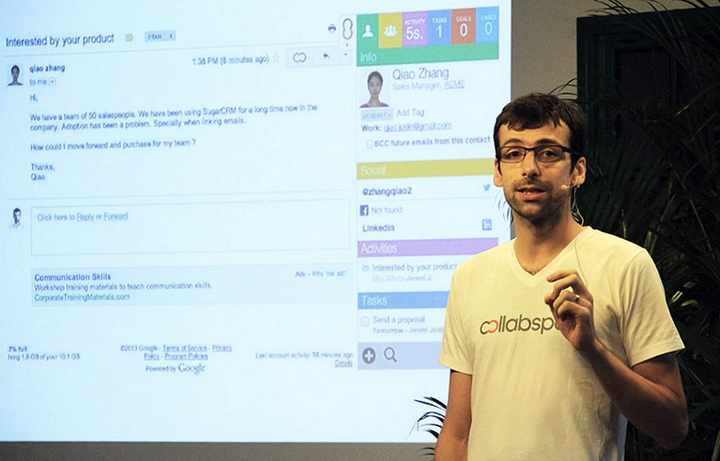 Jérémi Joslin, founder and CEO of Collabspot, surprised investors when he said at Singapore accelerator JFDI's demo day in June that he didn't need their money.
It's easy to see why: it had 500 paying monthly active users then, a figure that has doubled in four months. Assuming that each user pays $9 a month, that's an extrapolated annual revenue of $108,000 — enough to pay an engineer or two in Singapore. For a startup that was founded last year, that's decent.
Nonetheless, Jérémi has decided to take the money anyway, since some of the investors "wouldn't take no for an answer." In the end, the startup accepted S$80,000 ($64,000), it announced today. That is in addition to the seed money it took from JFDI and Laurent Gasser, the latter of which invested as part of a management buy-in that led him to join the executive team.
Participants in this seed round include Louis Naugès, Gasser's former co-founder in French Google Apps network Revevol, entrepreneur and investor Kevin Dewalt, and John Tan, partner in 8Capita. Both got to know about Collabspot while they were mentors at JFDI.
The startup was part of the second batch of JFDI graduates. The third batch is scheduled to have their demo day on December 9 this year.
At the right spot
Collabspot has found a niche despite a field with plenty of customer relationship management tools (CRM) that work within Gmail.
It features integration with Highrise and SugarCRM, which are popular web-based CRM tools targeted at small and medium businesses. SugarCRM in particular is well-established. The company has over 1.2 million end users and is used in over 6,500 organizations.
Collabspot, therefore, targets the cross-section of users that want both Gmail and these CRM tools to work seamlessly together.
To make that happen, Collabspot lets users track and manage customer information from their CRM systems within Gmail. It syncs data between both, reducing the time spent on data entry.
From the enterprise's point of view, using Collabspot makes sense because it increases the buy-in of employees in the CRM system that the company had invested in by lessening the burden of updating their data.
Other Gmail-based CRM tools are used rather differently. Y-Combinator-funded Streak, for example, doesn't feature any integrations with existing CRM systems yet.
Instead, it is a light-weight tool that can be customized for different uses. I've adopted it to manage my editorial workflow, for instance. It's also task-centric, with an interface that emphasizes the sales funnel, whereas Collabspot is more people- and conversation-centric.
Collabspot's video pitch:
(Photo credit: JFDI)
(Editing by Paul Bischoff)