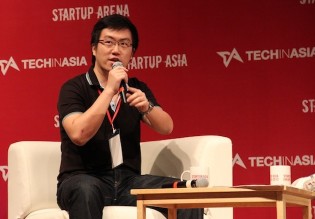 To bring a little China into our Startup Asia Jakarta event, Willis Wee took the stage to pose some questions to Suyang Zhang, Tencent's regional director of global mobile.
"Why are you in Indonesia?" Zhang responded: "Can I say money?" Jokes aside, he told the audience that Tencent has been in Indonesia for six months because of the massive market here, especially in mobile. In that time, the company has been pushing its QQ Browser and WeChat products in internationally, but for the Indonesia market, Tencent has a separate WeChat-like product called Qute that's more targeted at Indonesia specifically.
He said it was especially important to provide a cross-platform product in Indonesia because of the variety of phones here, which range from feature phones to Blackberries (very popular in Indonesia) and smartphones. Zhang suggested Qute's multiplatform support could even benefit Indonesian society by providing a platform for communication between classes rather than walling off (wealthy) smartphone users or (poorer) feature phone users on separate chat apps.
Qute will launch next month. Zhang said Tencent is working with a number of local telecoms on the launch, and assured Willis: "We will be localized."
Comparing China and Indonesia, Zhang said the lifestyles of the two countries are quite similar, citing migration to major cities as an example. He also suggested the traffic is similar — Jakarta is notorious for its brutal traffic jams.
As a foreigner doing business in Indonesia, Zhang again cited the traffic as a difficulty. He said they only ever book one meeting a day here because the traffic makes it difficult to get to more than one place per day.
Willis asked whether Zhang would consider building a startup here if he wasn't at Tencent. Zhang said that running Tencent in Indonesia basically is like running a startup. He invited the audience to join Tencent Indonesia, so if that's something that interests you, give Mr. Zhang a call! But after the self-promotion, he did say he thought Jakarta was a good place for a startup.
This is a part of our coverage of Startup Asia Jakarta 2012, our startup event running on June 8 and 9. You can follow along on Twitter at @startupasia, on our Facebook page, on Google Plus, or via RSS.