This post is a part of our coverage of Startups in Asia (Singapore), Penn Olson's first tech conference. Our full coverage of the event can be found here, for our RSS feed, click here.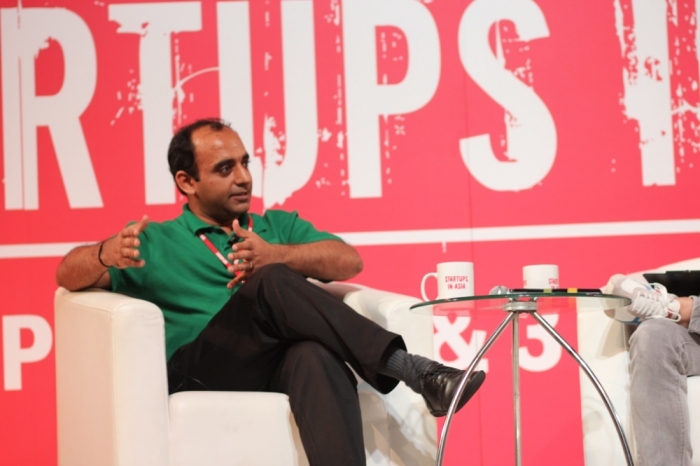 Willis spoke with Anuj Khanna Sohum, the founder and chairman of Affle Group, on day two of Startups in Asia in Singapore. Our live blog from the talk follows below.
Liveblog
#12:23: If you are committed to your venture, jump! Get in there!
#12:19: For me there are some fundamental things I do for any new thing. I ask myself, am I fully committed — both to myself and to team members or partners. Putting in solid time and money behind it. If you don't do that, you are reducing chances of success. Build a good team for yourself. It's an invaluable asset that will see you through. Be careful you you choose, because there are risks, but it is important. Also, don't be too in love with you idea. Adapt, be ready to chance. Evolve, because your ideas will look very different when you are successful.
#12:16: How committed to you to your own venture? How much money have you put in. If you're a student and its $5000, that's commitment. But if you have a full time job, and [the venture is secondary], then that's not commitment. Finding strategic investment is not difficult. If you can find justification to do a project with you or back it up with investment, but please do avoid the pitfalls of giving over control. Negotiate higher valuations, don't give over board seats and you should be fine.
#12:14: By definition an investor wants to invest, make money, and get out. If an entrepreneur thinks that way, I'm not sure they are being true to their idea. But they do, of course, need to deliver a return. An entrepreneurs role is greater than getting an exit. Be honest to your overall vision and purpose, but don't take on different roles after every single meeting that you go to.
#12:13: I don't think about exits as much as convention wisdom says you should. If you build a good business with a profitable model, then the exits will come. To me an exit is a side effect of a good business, not the other way around.
#12:12: I think even now VCs in Asia don't give high valuations. In the absense of a fair VC-based ecosystem, strategic investors are [a good option]. There are a lot of pitfalls if you get a strategic investor though, if you don't manage the contract carefully. We at Affle did not give any board seats to strategic investors. We have a very credible board. We really raised the bar and managed it really tightly, going the strategic investors way. I'm not saying you shouldn't go the VC way, but there are fewer startups qualified for funding, and more VCs out there — so the odds are in favor of the entrepreneur. So just make sure you get a fair valuation. You are at [worst] equals, if not in a commanding position.
#12:07: Microsoft came in and invested at end of 2008. You remember the Lehman crash at that time, everyone was cautious then. We closed the deal around December at 2008. We did that deal with Redmond, and it was quite a big deal. Bill Gates was replaced by Ray Ozzie, and this went all the way up to the top. To speak with him was a pretty big meeting for us. Times of India was one of the first investors we got back in 2007, they are a media company in India.
#12:04: I've always believed that there is lots of money around, but there are few few good entrepreneurs to take it. I've always believed that money is not the constraint.
#12:01: RE D2C, (D2 means a joint venture between Docomo, Dentsu, one of the largest carriers and one of largest ad agencies). I met the CEO at a conference in China, and we found we had a common vision.
#12:00: Five years into doing Affle, I would still say it is a startup.
#12:00: If you look at startups in Singapore, you'll find many foreign scholars trying to do things here.