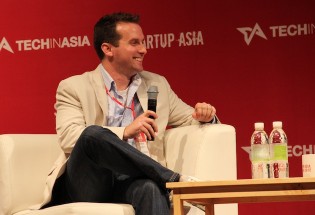 What's the difference between doing a startup in Silicon Valley and in Asia? Tom Clayton, the CEO and Founder of Bubble Motion, took the stage with Willis Wee at Startup Asia Jakarta this afternoon to address that very question.
Clayton started his first business at 15, buying and restoring classic cars, then reselling them at a profit. He sold that business at 17 for "just under a million dollars." Not bad for a high school student! He said he got into entrepreneurship for the money; coming from a poor family that seemed like a good thing to have. From there, he went into a high-end speaker system business.
"So after that you moved to Asia, right? Why, because of the girls?" Willis asked. "Yes," Clayton joked, but actually he started numerous companies before coming to Asia. Over the course of building those businesses, and after a divorce he traveled to Asia — "there's no better place to be a single white guy," he said. Eventually, he settled in Singapore, which he says is the perfect location for running Bubble Motion and Bubbly because he can travel almost anywhere in Asia from there in a day.
The service now has 17 million registered users, more than half of which are active, and many of which are also premium users, Clayton said. Bubbly has about four million active users in Indonesia, and Clayton says Indonesia is interesting because it's quite different from other countries. In many places, users follow primarily celebrities, but here they are more focused on family and friends.
But how did Bubbly managed to get that many users? "Part of it was just being the right place at the right time," Clayton said. Being available on every kind of handset was also very important. The service also pushes users to involve their friends in the service by sending them invitations.
"What is the exit plan?" Willis asked. Clayton says "my plan is to just execute." "We're almost profitable, we have tons of cash," he said, so the company is currently working to build its userbase and not particularly interested in being acquired (though Clayton says there have been numerous acquisition offers from companies in both India and Silicon Valley).
Bubble Motion has raised tons of money from investors, so what are Clayton's tips for southeast Asian entrepreneurs. "Raise money when you don't need it," Clayton said, "it's like dating." He also compared VCs to "kids on a soccer field," saying that if you can get one VC interested, others will crowd around you. Plus, "be as frugal as you can." The easiest round of fundraising is the one you don't have to raise because you weren't wasting money in the first place.
On exits in Asia, Clayton said that one issue is just that exits aren't all that high-profile; they don't make the news in the West. "I also think there's a supply problem," Clayton said; for each big exit there are thousands of startups that fail, and Asia has fewer startups than Silicon Valley for now. Another issue is that big acquirers now want their engineers onsite in China, India, or Silicon Valley, so southeast Asian startups with engineers based here often don't look that attractive.
"Are you making money in Indonesia?" "Yeah!" Clayton responds. The Bubbly is profitable in Indonesia. He wasn't able to provide an exact breakdown of which users were using what services, but he did say that most users were on Blackberry or standard feature phones — messages are sent via SMS/voice networks so you can use Bubbly without a data package. Not many on smartphones, and Clayton says it's harder for them to make money on smartphone users, but the company isn't too worried about that right now. "I don't think we're going to figure out [this problem] in the next couple months," Clayton said, but he didn't seem too concerned.
Compared to Silicon Valley, Clayton says one advantage is that recruiting talent is easier here (he said it's quite tough to recruit in Silicon Valley right now because Facebook is offering engineers massive stock options). Another upside is that being in Southeast Asia forces you to be international; China, India, Japan, and the US are big markets that can be tough to escape. But being based in Singapore, for example, the market is so small that you need to be international to survive. Disadvantages include harder-to-find funding, a lack of management talent, and also a different attitude towards jobs and stock options that can make recruiting and retention harder.
For entrepreneurs in Indonesia, Clayton recommends "absolute, maniacal focus" and being unique. Being a copycat might attract some investors, but being unique can help you make a global footprint. He also stressed the importance of rolling with the punches — an important aspect of life at any startup.
The discussion closed with a short story about Red Herring magazine, an old tech magazine which offered Clayton an award that seemed to be something of a scam. The magazine invited him to a conference, asking him to pay his own way, and then offered him an award despite the fact that he never found any judges or made his presentation in the first place. Event MC Richard Robinson agreed: the Red Herring awards are kind of a scam. Now you know!
This is a part of our coverage of Startup Asia Jakarta 2012, our startup event running on June 8 and 9. You can follow along on Twitter at @startupasia, on our Facebook page, on Google Plus, or via RSS.