A wearable tech company from China is about to launch a good-looking new fitness-tracking gadget. Unfortunately, the elegant design is far from original, as it's a very blatant clone of the Jawbone Up. The copy-paste creation is from Codoon, the Chinese startup we profiled a couple of years ago, and is called the Codoon Sports Bracelet (pictured below).
Whereas the Jawbone Up costs a whopping $130, Codoon's little clone – which will launch soon, though no date is set – will cost only RMB 299, which is $48. There is some demand for imported Jawbone Up devices in the country, but they sell for RMB 1,100, which is a staggering $177. Here are the two gadgets side by side: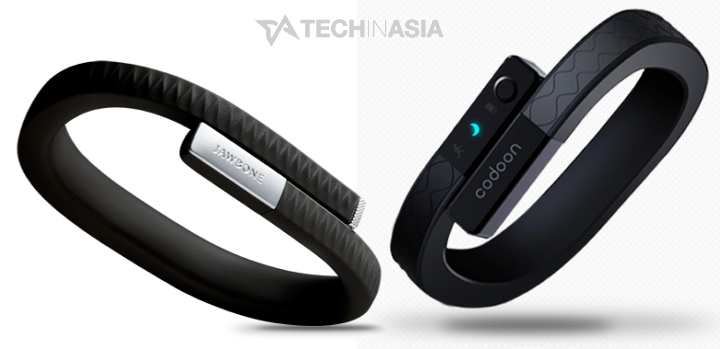 The new gadget will work with Codoon's existing tracking apps for iPhone and Android to give you analytics about your exercising, movements, and sleep patterns. The Codoon homepage has had a nice, slidey revamp to welcome its new product – and that's reminiscent of Jawbone's homepage as well.
Codoon was founded in October 2009 and received over $1 million in investment in April 2011.
Aside from sending data to Codoon's mobile apps, the new Codoon Sports Bracelet will also zap your data to a Baidu Cloud account.
In the past, Codoon's wearable hardware was optional, as its smartphone app can do a lot of data tracking. But with its new Codoon Sports Bracelet, there's much more emphasis put on its hardware, which will surely help with the startup's revenue stream.
Regardless of the derivative design, the price is right on this new fitness-tracking gizmo. RMB 299 is definitely the kind of price-point where a lot of Chinese smartphone owners could think Well, I'll give it a shot. Perhaps this kind of wearable tech, after a sluggish start in China, will finally pick up pace.
(Hat-tip to QQ Tech for spotting this)