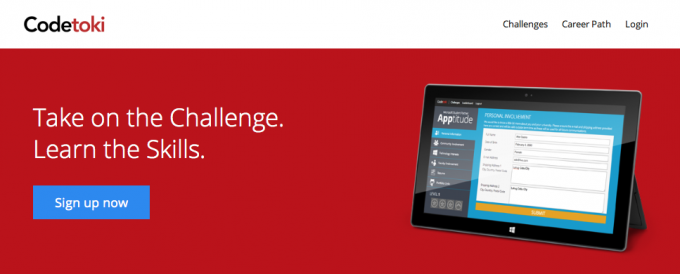 In the early to mid 90s, fueled by global demand, the Philippines experienced a huge, sudden need for computer science and IT trained professionals. In turn, the number of schools offering courses for such professions swelled as well. So much so that by the end of the decade, the number of graduates with such degrees was substantial. Unfortunately, not all these graduates had been provided with the exact skills to take advantage of the local, and global, demand. Outdated curriculums, obsolete technology, and a myriad other lesser factors contributed to a community of young aspiring IT professionals wherein only 1 out of 10 had the necessary training to be employable, let alone successful. To this day, this trend has only marginally improved, and there are countless hopefuls out there, still waiting to get that ever elusive, yet crucial, first IT job.
Enter six young IT professionals who've experienced these hardships first-hand. Their solution? Codetoki, a platform to aid fellow graduates in finding employment, by specifically matching applicants to the most suitable employers, and making them visible to future employers. All this on an achievement-based, game-like platform.
It works by having interested companies involved. These IT and Business Process Outsourcing (BPO) companies generate challenges, tests, and games, for aspiring applicants to complete. If you're an applicant, you simply choose which companies you wish to apply for, take their challenges and tests, and earn a badge for completion. The badge makes you visible to that company as you've proved that you're interested in working for them and that you've got what it takes to be their employee. And by taking and completing these challenges, applicants build up a portfolio that fits the requirements of potential employers.
The list of the companies is impressive as well. BPO specialist Accenture, CAI-STA Philippines, Asian Business Solutions, Inc. and the like are here. Global eGovernment specialist Crimsonlogic Philippines is represented, as well as cloud infrastructure service provider ArcusIT, and the Microsoft Philippines Academic Team.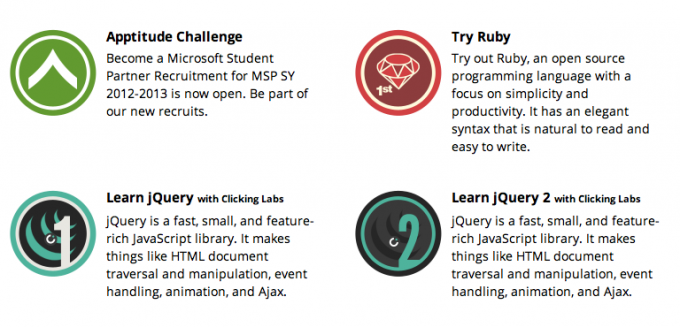 There are four challenge categories offered by Codetoki. First is the aptitude challenge, where one can also become a Microsoft Student Partner. Then there's Ruby, a dynamic, open source programming language with a focus on simplicity and productivity, used My NASA's Langley Research Center for simulations, and Google SketchUp, among others. Finally, two badges can be had for basic and advanced jQuery, a multi-browser JavaScript library designed to simplify the client-side scripting of HTML, and the most popular JavaScript library in use today.
Through Codetoki, these companies can advertise the requirements in information and communication technology skills they require, which of course is based on open positions and needs they had on their respective rosters. Aspirants can then complete test problems and challenges, which are specially designed to address these required skills, and for every challenge successfully completed, a badge is added to the applicants profile, and overall portfolio. This whole process also provides the applicant with experience and an opportunity to master the technology and skills specific to their selected position, as well as building and expanding their profile in a way that companies are actually able to view their portfolio. Having been built as a game-like platform, there's even a ranked leaderboard, which makes it easier for employers to choose the best fit for their available positions.
Run by Ademar Tutor, Honeylyn Balingcasag, Donna Limoran, Gerda Decio, Gretchen Abenoia and Arnelle Balane, Codetoki has several accolades under its belt already. Codetoki is a product of Hack2Hatch, a startup camp wherein Silicon Valley founders, specialists and investors provided mentorship to young startup hopefuls. It also won first place at the Ideas Challenge of AppBridge, a World Economic Forum initiative, as well as first at the Apps for Asia Philippines contest run by Microsoft and the Asian Development Bank. It also took third place at the first Startup Weekend in Cebu.