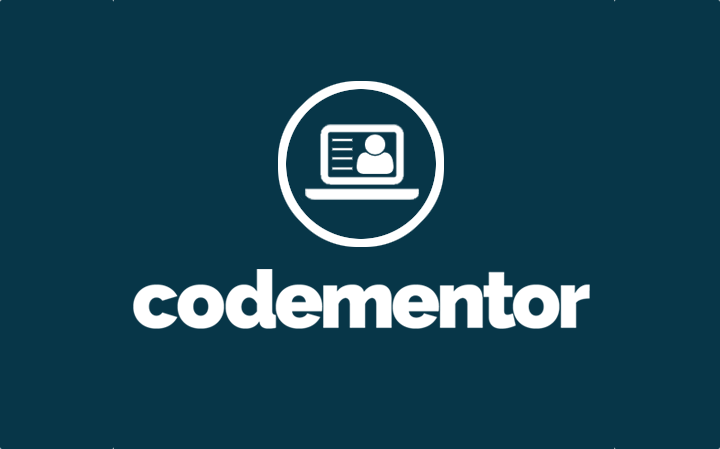 Codementor, a startup that connects developers stuck in a pickle with coding gurus, just closed a $600,000 seed funding round. Participants in the investment include David Cohen (CEO and managing partner of Techstars), Will Ballard (CTO of GLG, one of the largest expertise networks in the world), Fabrice Grinda, Jose Marin, Alec Oxenford (founders of classifieds site OLX), Techstars, TMI, and others.
Codementor founder Weiting Liu states that the funding will be used to build out the site's feature set and expand the five-member team, though he adds that the round's primary value comes from the people pitching in on it.
"All of these angels are strategic investors who have experience in  building successful marketplaces themselves," says Liu. "We're a Techstars company, so the fact that the founder of Techstars himself has participated in this round of funding is a huge vote of confidence. We also look up to GLG and OLX, so receiving funding from them is a huge vote of confidence as well."
Codementor's premise is so simple it's a wonder it's taken so long for a service of its kind to emerge. Programmers who are stuck on a difficult problem can register for to join Codementors, describe their dilemma, and issue a request for help. They'll also be asked to specify their budget and availability. After submitting their request, they'll be matched with one or potential mentors, each of whom charges in 15-minute intervals. Alternatively, if a user has one particular mentor in mind, he or she can submit a request for that specific person. Once a match is confirmed, coders are just one video chat away from fixing their bugs. Codementor has roped in its experts simply through word-of-mouth or direct solicitation.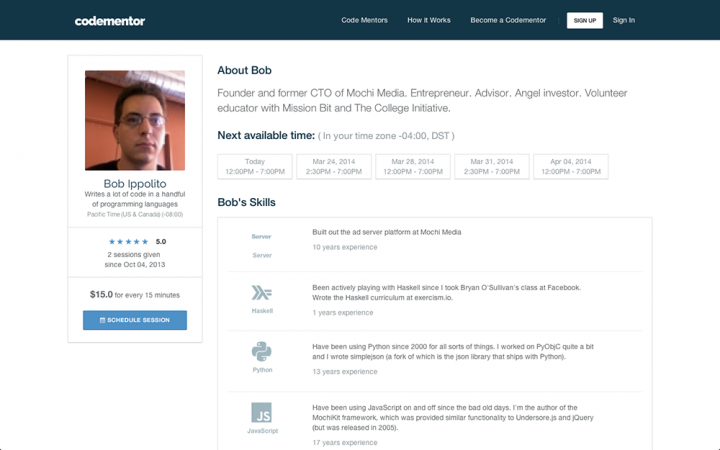 "We think of ourselves as an addition to great resources out there like GitHub or Stack Overflow," says Liu. "Those websites are like research you might do at a library. We think of Codementor as a live one-on-one tutor or professor."
About six months since it's initial soft launch, Codementor has accumulated over 600 mentors, all of whom have been personally vetted from an applicant pool of about 2,500. The startup has recruited some big names as mentors, including Bob Ippolito, founder of Mochi Media, and Max Howell, creator of Github's Homebrew Package manager.
Cracking the startup success code
Liu has built Codementor as a grassroots startup, but he's no startup newbie. Like many graduate students at Standford in the mid-00's, Liu was quickly seduced by Web 2.0 and startup mania, which back then was only just taking shape in California.
"Mark Zuckerberg went to Stanford and did a panel called 'Finding the Next Google' with Sean Parker and Peter Thiel. At the time, Zuckerberg just looked like some young college dropout. As I watched this panel back in 2004, I thought to myself, 'Hey, it's not impossible for someone to build a big company right after school."
Six months after graduation, Liu co-founded SocialPicks – a site that tracked the performance of stock market bloggers and other influential Jim Cramer-types. The site was ultimately acquired by FinancialContent, a company that makes web widgets and applications, in 2009.
While SocialPicks was a globally-focused company, for his next venture, Liu went local and returned to Taiwan, where he grew up. After a brief stint making Facebook apps for Cardinal Blue (which later produced popular photo app PicCollage), Liu went on to co-found a social media marketing agency with his brother, who had earned a reputation in Taiwan as a Facebook marketing guru known as Mr. 6. Over the next two years Liu and his brother grew the Mr. 6 team to fifty people with zero funding, transforming the brotherly venture into a reputable marketing force on the island. Yet even as the young team accumulated experience, it wasn't immune to technical nightmares.
"Often, while at Mr.6, I would look at my team of junior developers and I would notice that everyone was stuck. There were times when I thought to myself, 'If only I could call up an expert on this coding issue, instantly, then this problem would be over in minutes.' Had Codementor existed back then, I would have been a happy customer. But it didn't, so I decided to create it myself."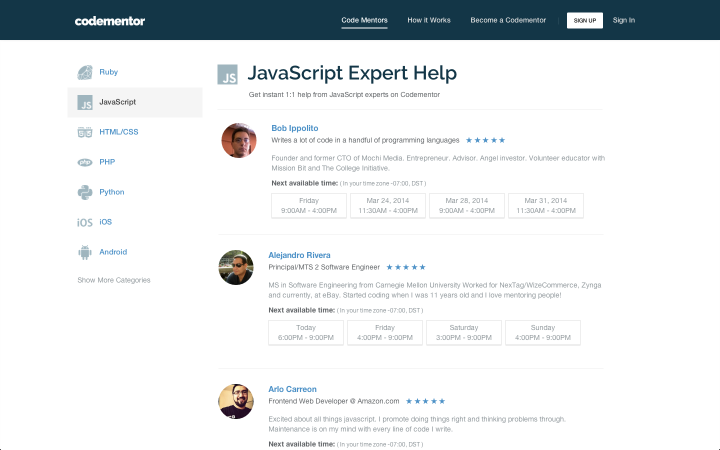 The project officially came to fruition around August 2013, when Liu joined Techstars Seattle's accelerator. Liu had already played the accelerator game – SocialPicks went through Y Combinator in 2007 – but he was compelled to join Techstars because it was an opportunity to work closely with Andy Sack, who managed Techstars Seattle and also runs the coding bootcamp Code Fellows.
"I reached out to Andy Sack personally and told him about my project and thought it might be of interest to him because of work in Code Fellows. Then he told me that he was also a manager at Techstars Seattle so he invited me to go be a part of his batch. I perceived there would be a great synergy there so I decided to join."
Liu currently runs Codementor from TMI's workspace in Taipei, where he employs a local staff. Meanwhile, he splits his time as co-founder between Taiwan and California. As a globally-focused company, Codementor could theoretically keep its HQ anywhere, but Liu is keen to leverage his existing networks back home and in the Valley in order to keep the project growing.
"I wanted TMI to become our first investors, because I knew then that I could treat them almost like partners – I could bounce ideas off of them and they could introduce me to good people in Taiwan. But I'm see myself as a global person, and I've always wanted to run a global company. Due to the nature of the market in Taiwan, there's only a few categories of startups have a chance at succeeding. One of the reasons why i started Codementors as a us company as because I realized there was this global need, and I saw an opportunity to fill it."