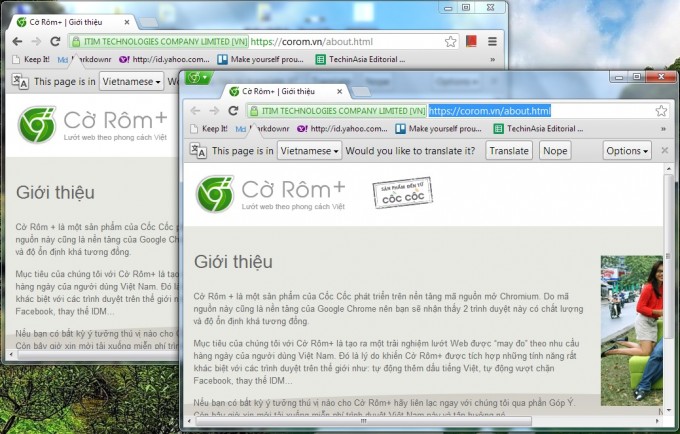 In the quest to take down Google in Vietnam, CocCoc is stepping up its game once more with the release of a new browser called Corom this week (a name, that pronounced in Vietnamese, sounds a bit like Chrome). I think this is a smart move. When I heard the news that CocCoc wanted to challenge Google in the country, I always thought that they would need to get into the browser battle. After all, most of my searching these days happens either in my Chrome default "omnibox" or search box, and in my default mobile browser. Thus, this move allows CocCoc to get onto Vietnamese users' desktops.
Victor Lavrenko, CEO at CocCoc, says that the main purpose of building this browser is to "help Vietnamese users. That's our strategy – do good for users." and Corom helps to achieve that by providing some key things other more mainstream browsers like Chrome, Firefox, Safari, and – cough cough – Internet Explorer don't have. He points out four main Corom benefits:
Unfortunately for me, the browser is only for Windows. Windows is by far Vietnam's most popular computer operating system, where Macs are only really seen sometimes used in the big cities. Victor says they do hope to come out with a Mac OS X version soon. When asked if they'd be releasing a mobile browser, an area I think has a lot of potential, Victor said:
Regarding a mobile browser, I think it's not our target because mostly browsers are pre-installed and people rarely change them. However, probably we'll integrate points-of-interest search into our browser and maybe this will be an advantage big enough for people to replace their mobile browser.