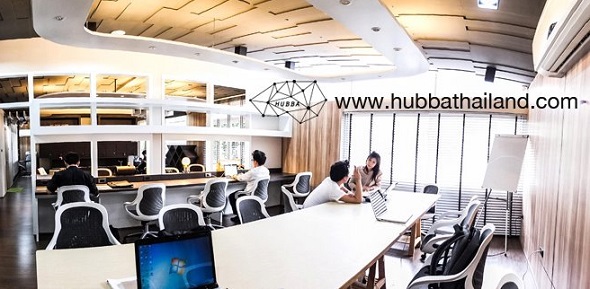 Thailand could be on the precipice of a coworking boom. In recent months, the country has seen the emergence of two new coworking spaces, both hoping that they'll draw Thailand's emerging community of entrepreneurs and freelancers.
The pioneer in the nation's coworking scene is HUBBA, which bills itself as Bangkok's first coworking space for tech and creative startups. Ever since it soft-launched in July 2012, the venue has managed to attract over 100 registered members, with 50 of them active.
According to Amarit Charoenphan, co-founder of HUBBA, the team realized that Thailand was ready for coworking spaces due to a big community of freelancers that were underserved by existing facilities. Many were still working from home or at a cafe.
"We felt that if we were able to just capture a slice of all the people whom are working out of Starbucks everyday and compel them to use HUBBA instead, the business would definitely be sustainable," says Amarit.
He also believes that whatever is cool and works in the West would also have a tendency to succeed in Thailand, due to the large number of students who went abroad and got exposed to coworking spaces. His hunch turned out to be spot-on.
"We had a strong belief, which was proven true when we opened, that people would be willing to pay more for better and more flexible facilities and services, a more curated membership experience consisting of tech and creative startups, and the chance to be at the center of the action in Thailand's emerging startup ecosystem," he said.
Fostering a startup community is an aim of HUBBA's, which is why they have been actively partnering with startup event organizers. Besides getting involved in Startup Weekend Bangkok, HUBBA has also worked with Singapore tech blog e27 on their Founders Drinks: Bangkok and the ongoing Echelon Ignite.
As more Thais get acquainted with the concept, we can expect more coworking spaces to pop up in the country. Already, a second such spot, Launchpad, has emerged in Bangkok. The new 800 sqm place has been lauded for its nice interior design, cavernous recreational area, and even its own cafe.
The importance of these spaces to Thailand's burgeoning startup scene cannot be underestimated. Noted Israeli-American author Saul Singer observed that the development of an entrepreneurial subculture is important for the health of a startup ecosystem.
Having a venue to facilitate interaction and the sharing of ideas is the first step towards building such a subculture.
Check out our map of coworking spaces in Bangkok (you can zoom out and view coworking spaces in Singapore too):

View Co-working spaces – SGE in a larger map