China's web registry regulator, the CNNIC, has today released a new tranche of data showing the size of the Chinese internet landscape at the end of 2012. The report reveals that China now has 564 million internet users, meaning that web penetration is up to 42.1 percent of the populace. It also reveals how many use social media like Weibo.
Here's the scene now, in which the red line shows the rate of penetration: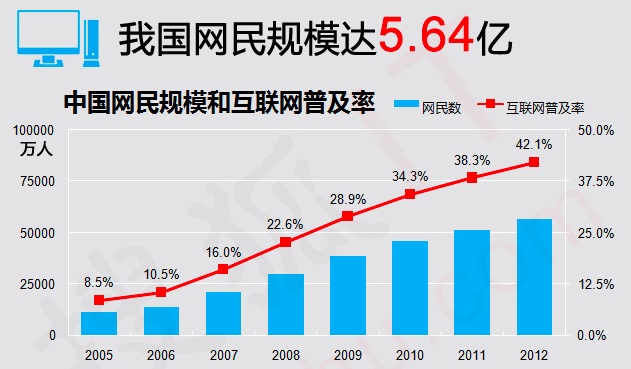 On the mobile side of things, China now has 420 million mobile web users. That's not to be confused with the billion-plus total phone subscribers, or the 200 million who have signed up for 3G on their smartphones. CNNIC credit the popularity of e-commerce and social media like Sina Weibo for this area of growth.
With a still rising number of mobile web users, the red line now shows the percentage of total web users who are browsing on their phones: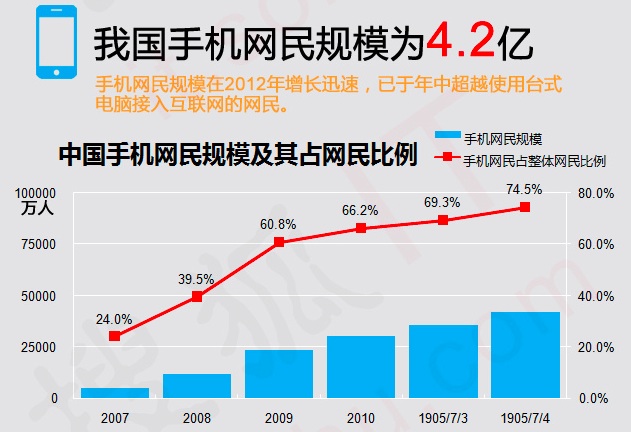 309 million Weibo users
Another substantial stat is that, according to CNNIC, China now has 309 million microblog users on the Twitter-like services such as Sina Weibo and Tencent Weibo. That means 54.7 percent of all netizens are active microblog users. Of those, 202 million access one of the many Weibo/Twitter clones on their phones.
Sina Weibo announced that it has 400 million registered users back in November of last year, but it didn't indicate how many of those are active.
Other fun stats
Desktop PC access dropped from 73.4 percent in 2011 to 70.6 percent in 2012

Laptop usage dipped slightly, to 45.9 percent

Mobile web usage went up from 69.3 to 74.5 percent from 2011 to 2012

20.5 hours is the average amount of time per week spent on the net. That's up from 18.7 hours in 2011.

There are 242 million e-commerce shoppers online. I'm surprised this is not higher. Also, daily deals customers amount to 83.21 million.
And here's the gender and age balance on the web in China: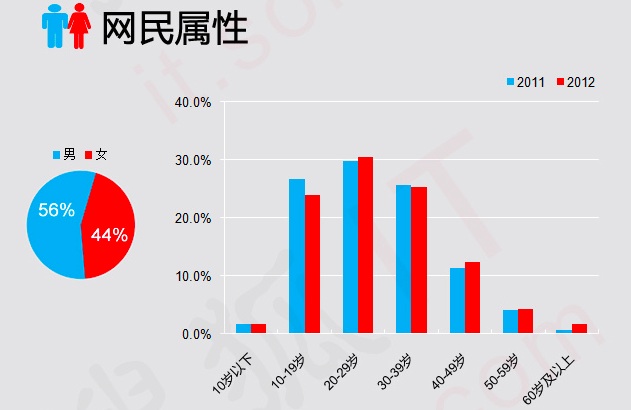 [Graphs from Sohu IT]