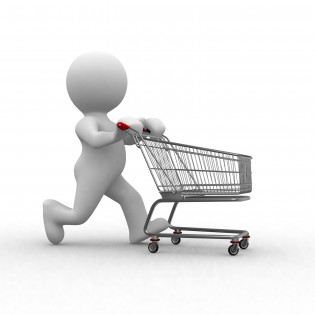 The China Internet Network Information Center released its numbers for Chinese e-commerce in 2012 and there's only one way to describe them: bonkers. All in all, CNNIC says, the Chinese E-commerce market saw more than 1.2 trillion RMB ($190 billion) in transactions over the course of the year. That's such a gigantic number that I'm going to write it all the way out so that you can really feel how massive it is: 1,259,400,000,000 RMB.
Perhaps even more significant, though, is that CNNIC says 242 million Chinese users bought things over the web last year. That's a big number, but in a country with more than 1.3 billion people, it also belies just how much room there is for the Chinese e-commerce market to grow over the long term — especially if China's economy keeps growing along with it.
The most common purchases online — by far — were clothing items (including shoes and hats), with 81.8 percent of e-commerce users having bought at least one clothing item online every six months. Next was daily necessities, which 31.6 percent of users bought. Third in line was computers and other digital electronics, which 29.6 percent of users purchased.
40.7 percent of e-commerce users in China used a mobile device to browse e-commerce sites at least once in the past half year, and of those users, 53.6 percent used a mobile app connected to the e-commerce platform they were browsing (as opposed to the phone's web browser). Unsurprisingly, that's a significant increase from last year. And if Alibaba's numbers are any indication, next year is likely to be even bigger.
(CNNIC via Sina Tech, image source)