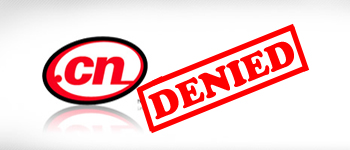 China's national registry of websites ending in ".cn" was hit by a denial-of-service attack yesterday. Several websites with the .cn suffix were either inaccessible or extremely slow, including the popular Twitter-like Sina Weibo, Amazon.cn, and the Bank of China. Many Weibo users were unable to log on during the attack. A statement from the CNNIC (China Internet Network Information Center), which runs the country's domain registry, says service has been restored, but the attacks are still ongoing.
About 30 minutes after midnight on Sunday, the attacks crippled the registry for more than 13 hours until 2 p.m.. Then, just two hours later at around 4 p.m., another wave of attacks struck. CNNIC did not specify where the attacks originated from, but it did say it was the largest denial of service attack it's ever underwent. As of the latest announcement, the registry is still recovering.
Although it's unclear whether or not the attack originated in China, antivirus software vendor Symantec's 11th Internet Security Threat Report says the mainland accounted for 26 per cent of more than six million computers worldwide found to be infected by bots – programs covertly installed in a computer to allow an unauthorised user to remotely control the machine. These bots are brought online to conduct this type of attack.
The attack comes on the heels of Google's outage on Friday and the the NASDAQ's outage on Thursday.
(Source: Tencent)
(Editing by Anh-Minh Do)