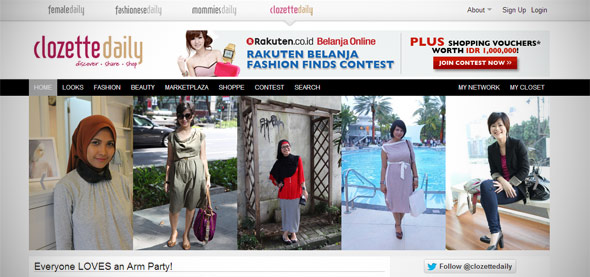 Singapore startup Clozette announced yesterday that it has partnered with Indonesia's Fashion Daily Network to launch a localized version of its fashion social network, Clozette Daily.
Fashion Daily Network is the largest female online community in Indonesia at over 47,000 members.
Clozette says that its latest offering will be the first fashion social network in Indonesia to integrate social networking with e-commerce. Users can create they own online closet and purchase items through Clozette's third-party e-commerce partners.
The site looks similar to Clozette's main site, sharing the same features. But the localization was clear to see. It features several Indonesian online retailers like Moporie and Closet Quickie, as well as a 'Hijab of the Day' page.
The fashion social network has been rapidly expanding regionally of late. It launched its Japanese platform on 15th December last year in partnership with Glam Media.
Clozette then followed that up by raising a Series A round of USD 1.9M led by Seed Ventures IV in May 2012, a USD 16.4M venture fund under the Singapore National Research Foundation's Early Stage Venture Funding Scheme managed by Walden International. Adding that to a USD 1.19M seed round, this brings the total investment to USD 3.09M.
In terms of traction, Clozette had 100,000 beauty and fashion items shared by users from 100 countries as of May 2012. And in December 2011, it was attracting 85,000 unique monthly visitors.
Its founder, Roger Yuen, has serious entrepreneurial and management chops. Before starting Clozette in July 2010, he started IT security company e-Cop with Eddie Chau, another established entrepreneur. He then became an angel investor and board member of Brandtology, which was acquired by Media Monitors.