Hassanal Bolkiah, Sultan of Brunei, is one of the world's richest men and has a reputation not just for his luxurious lifestyle and his collection of more than 7,000 exotic cars, but also for his aggressively conservative stance on the Islamic state religion. On May 1, Brunei became the first country in Southeast Asia where the Islamic legal system is enforced on a national level when Bolkiah implemented Sharia law in his small country of only 420,000 people. Now, Brunei citizens who cheat on their spouses may be stoned to death in public. Those who commit theft may get their hands cut off. Other petty offenders may be whipped.
Media in Brunei are also controlled by the Sultan. Critics cite Bolkiah's media control as one of the country's biggest problems, including Sam Zarifi, the regional director for Asia-Pacific of the International Commission of Jurists. Zarifi says, "Freedom of opinion and expression is widely disregarded by the authorities in Brunei."
How does Sharia Law limit free expression? Quratul-Ain Bandial, a journalist for The Brunei Times writes:
There is no censorship board in Brunei that systematically vets what we publish, yet we live in constant fear. Fear of overstepping the invisible line in the sand that defines what we can or cannot say… Officials chastise us for portraying the country in a negative light, or reporting on things deemed 'sensitive.'
According to Keeran Janin, co-founder and CEO of the new Brunei-based chat app Chrends, people living in Brunei are unlikely to discuss topics like homosexuality, political strife, or religious criticism in public. Janin claims citizens live in perpetual fear of legal and social consequences. He says, "Talking about adultery on [online] forums will not necessarily get you punished. But this is definitely a topic where anonymity helps people open up more about personal opinions on tough subjects."
Janin claims that it's like living in a game of 'Chinese Whispers'. "The result in Brunei is that these biased rumors get spread on platforms like WhatsApp and Facebook without a balanced counter argument," he explains. "Our goal is to create a new kind of freedom of expression accessible to everyone – especially the millions of people around the world who still live without full access to this basic human right."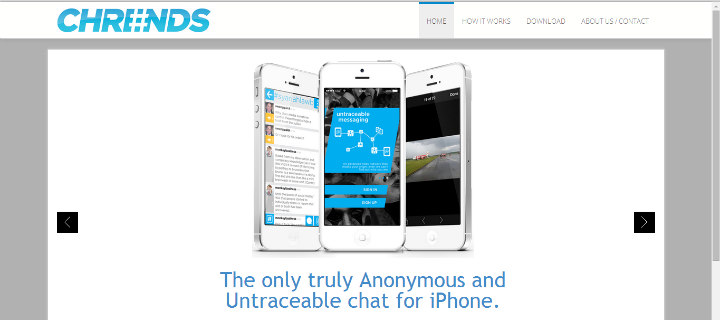 Guerilla chatting
Janin's app, Chrends, is a mass chat room-style app that masks everyone's identities. There is no person-to-person, private messaging option on Chrends. The word Chrends is a hybrid of "chat" and "trends". The chat rooms themselves are created by users around hashtags. Therefore, the name of the chat room matches the topic that may be trending on other social networks like Twitter. Simply put, Chrends provides a public place for Brunei citizens to spout their mouths off about anything they want, with the comfort of anonymity and safety of impunity.
Chrends is similar to the popular Telegram chat app in the sense that all messaging is secure, but Chrends differs from Telegram as it does not offer a closed, person-to-person option and all chats are public with assigned moderators. Chrends also differs from the Wiper chat app because users can not simply delete their threads.
The app calls itself Brunei's completely anonymous and untraceable open discussion app. It encourages users to engage in public discourse on topics that would otherwise be considered taboo in the face of Brunei's volatile political landscape.
See: Unblockable? Unstoppable? FireChat messaging app unites China and Taiwan in free speech… and it's not pretty
A safe option?
Chrends doesn't collect any personal information from its users and has a backend specifically designed to prevent hackers and organizations (or even legal subpoenas) from learning chatters' identities. The only thing viewers can see are the chatters' chosen aliases and comments they leave in the discussion.
Janin says, "Even if we wanted to, we couldn't supply the government with information about our users. Our system even prevents us from seeing their IP address. It's sort of like a digital speakeasy." He calls Chrends a highly customized internet relay chat (IRC). The app's co-founder, Bram Matthys, has also been the project lead of UnrealIRCd since 2001 – a company he refers to as one of the most popular IRC servers in the world.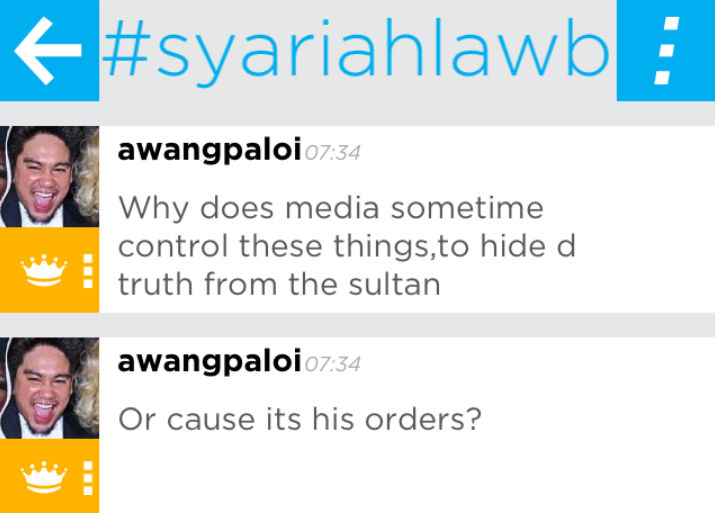 Scaling free speech
In May, the company received a seed round investment of US$100,000 from ChinaRock Capital Management in Silicon Valley. Janin, who is currently in the process of setting up an office in Northern California for Chrends programmers, says, "It's our job to ensure the system is kept free of abusive users and that we can scale the experience to other regions that would benefit from Chrends, like Indonesia, Malaysia, and Thailand."
See: Philippines Cybercrime Law: who does it really protect?
When asked how Chrends plans to monetize its service, Janin says, "Our value comes from anonymity, so it's hard to know who our users are and how to market to them. But in the future, if it's clear we're providing a great value, we may charge a fee to use the service."
Janin acknowledges that Chrends comes with a tough business model, but did not comment on how it can collect revenue from users without also incidentally collecting insights like bank account numbers or credit card information – things the Brunei government or other authorities may be able to subpoena.
"Our biggest challenge is going to be growth," Janin concedes. "Up until this point we've primarily decided to promote the site through word of mouth."
According to Janin, Chrends users are already openly debating a lot of topics that would normally be taboo in Brunei, one current being #syariahlawbn, a daily flow of opinions and discussions on the countries new Sharia laws.
Perhaps the most popular Chrend is simply #Brunei, a thread in which chatters discuss all their experiences and thoughts about the country in general, ranging from leisure activities to sports and politics. Topics like #agonyaunt and #confessions are other active daily hashtags where users share problems and secrets in a self-help group style discussion.
Image of Brunei's Sultan Hassanal Bolkiah via Flickr user watchsmart