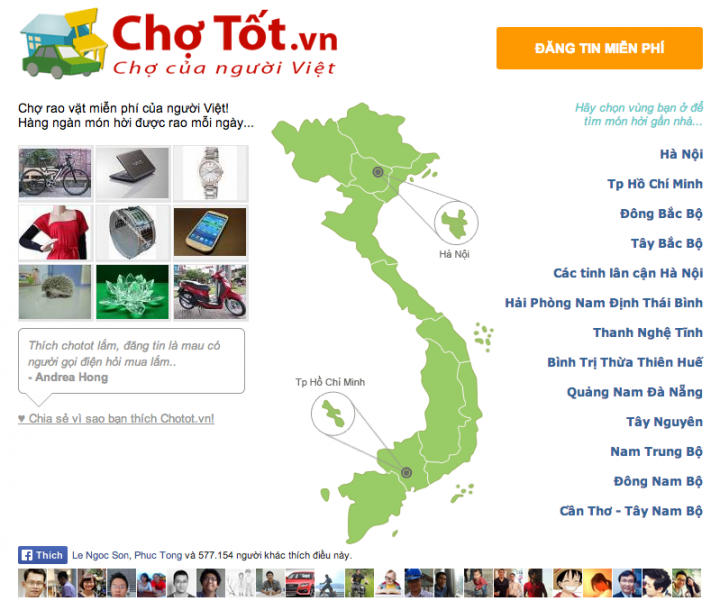 (Edit: We apologize for the error. According to Bryan Teo, it is page views, not unique visits.)
Among the many up-and-coming e-commerce websites in Vietnam, Chotot.vn has been the quietest with respect to the media but loudest with respect to online ads. It's a C2C classifieds site that with a product catalog that includes motorbikes, mobile phones, computers, household appliances, furniture, and pet goods. If you're surfing around on the Vietnamese internet, you've probably run into Chotot.vn one way or another, as the site has gobbled up ad space on Facebook, Google, and elsewhere. Bryan Teo, general manager at Chotot.vn, was gracious enough to share with us some staggering figures over at Chotot.vn.
Chotot.vn has been in Vietnam for the past two years and it has seen exactly zero revenue for that entire time. On top of this, the team has about 50 people working on site. Ten of them are the core team and forty of them are paid to review the thousands of ads that pass through Chotot.vn's system everyday. Add the ad spend on this and you're looking at a very big burn rate. Teo told us that the number of ads that go out for Chotot.vn per day is in the five figures. And that's all part of Chotot.vn's strategy. In fact, they meant to make zero revenue. And as a result of that, the company has achieved up to 150 million page views per month – amounting to five million unique page views per day. That's more views than HaiVL, Vietnam's funny photo sharing site, receives daily.
The key question here is, how can Chotot.vn be burning so much money? The truth is, Chotot.vn is a subsidiary of a larger corporation, 701Search. And this corporation has investment from Singaporean investors as well as Norwegian investors. In fact, the C2C classifieds model that Chotot.vn is executing is part of a global network of over 30 C2C sites, with four of them in Asia. In other words, this strategy is not new for the companies. The other three are in Malaysia, the Philippines, and Indonesia. Unlike Rocket Internet, which exercises some managerial power over the companies it purportedly invests in, and Chotot.vn gets a relative amount of leeway in its model and managing directors can adapt the online classifieds strategy to the local market.
How Chotot.vn localizes
According to Teo, ad monitoring is one of the key strengths and initiatives at Chotot.vn, and this is reflected in the forty-person ad review team.
In order to pre-screen ads and prevent spam, we require customers to give their phone numbers. Thus, of the many ads that we get on our site per day, about only one of them will be a case of fraud or fake ad. In the beginning, we were rejecting up to 60 percent of ads, now this number is down to 40 percent. That means people are learning how to use and trust the system.
On top of this Chotot.vn also has a blacklist of people who have attempted fraud or didn't end up paying the merchant. Chotot.vn also encourages safety and reliable transactions by encouraging individuals to meet in public spaces so that people can feel safe when exchanging the goods and making transactions. Teo believes that this is a particularly compelling model for a young customer base for whom trust is still a key issue.
But why does Chotot.vn, a company that wants to build trust, not build a rating system? Teo continues:
Because, in the case of C2C, selling an item may sometimes only happen once. With B2C e-commerce sites like eBay or Amazon, some of their users have gamed the system. The ratings get manipulated. This causes a lower barrier to entry for one-time sellers.
The frontiers of C2C and the classifieds battle next year
Currently, C2C companies include long-time players like 5giay and Vat Gia, but Teo believes he has a competitive advantage by emphasizing a strong clean ad review strategy and aggressive marketing. At the same time, Vietnam's C2C market is about to be hit by incoming Rocket Internet player, Lamido, which is currently being housed in the same office as Lazada. The market is getting crowded.
(Editing by Josh Horwitz)