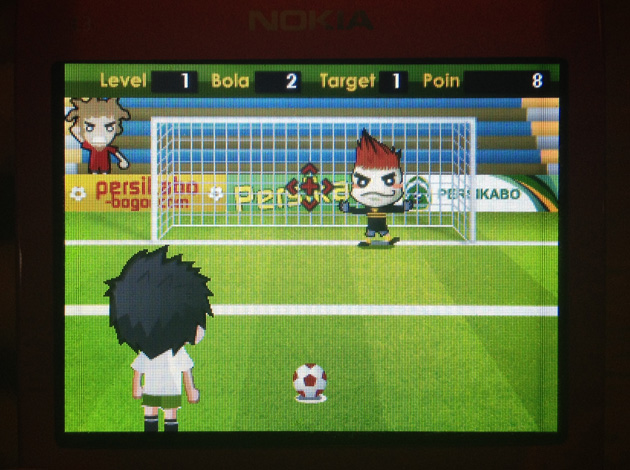 Indonesia-based Chocoarts has launched its long awaited mobile football game yesterday. The game, titled Jago Kabo, is built for Persikabo (Persatuan Sepakbola Indonesia Kabupaten Bogor), a club within the Indonesian Premier League.
I actually had a preview when I visited Depok last Saturday. The game is a simple point-and-shoot penalty shootout mobile game for feature phone users. Players across Indonesia will compete to be at the top of the nationwide leaderboard. The top two winners will have the chance to take part in a "penalty shootout" at the stadium of Persikabo where users may get to win prizes sponsored by Nokia (HEL:NOK1V; NYSE:NOK). Jago Kabo is available only for the Nokia S40 platform, which Mega Denditya, the co-founder of Chocoarts, says is still widely used in Indonesia.
The combination between football and mobile gaming, both of which are huge in Indonesia, is interesting. Beside Persikabo, Chocoarts revealed that it plans to build similar games by partnering with other local football team to tap their fan base. Mega told me:
This is our attempt to tackle the Indonesian mobile game market and we want to know how good can we get by engaging football [fans directly].
Chocoarts raised some seed funding from angels a couple of months ago and has now a team of four people. Jago Kabo costs 3,000 Rupiah (US$0.33) to download and is only available in Indonesia. Apparently, game developers in Indonesia still see potential in Nokia despite the company having a poor Q1 2012 which saw the mobile maker losing $1.7 billion. In recent survey from Nikkei BP Consulting Nokia polled number one among selected top global and regional brands in Indonesia.