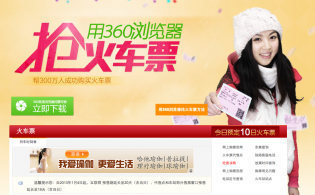 China's 12306 ticket purchase site (run by China's Railway Ministry), is the only official way to buy train tickets online in China. But with Spring Festival coming and traffic to 12306 spiking, it looks like someone is trying to hijack some of that traffic by tricking users looking for the real 12306 onto a site that pushes Qihoo's 360 browser.
The trick works like this: 12306 is located at 12306.cn, but somebody purchased 12306.com and has set it to redirect to piao.jiaoman.cc, a very polished looking site that directs users to download the 360 Browser and use its ticket-purchasing plugin.
Neither 12306.com nor jiaoman.cc are officially registered to Qihoo, but the company will certainly benefit from this free advertising. A Qihoo representative told Tech in Asia:
The site you are referring to has nothing to do with Qihoo. Someone tries to use the popularity of 12306 and Qihoo's name to make some money on embedded advertising on the site.
It appears that whoever registered 12306.com was trying to cover his or her tracks, because the whois contact information for the domain is clearly fake:
renxiansheng
12306
97653790@qq.com
CN guang dong guang zhou shi buxingjie001hao 112233
Additionally, the contact phone numbers listed for both 12306.com and jiaoman.cc don't actually exist; calling either of them results in an automated response that says 'the number you have dialed does not exist.'
It's unclear who registered these domains and is operating the site. It contains several embedded Baidu ads, so someone may be hoping to profit from them while remaining undercover lest the police come calling.
Regardless of who is responsible for the site, though, it's clearly tricking customers. As one weibo user wrote:
When you type in 12306.com you see ads for [Qihoo] 360 and [its ticket-buying plugin]; I thought that Qihoo and the Railway Ministry had set up a partnership; half a day later I finally realized I should have typed 12306.cn, not .com! It's really confusing, you [the Railway Ministry] couldn't just have registered .com to make it easier for everyone? […] It's lucky that Qihoo isn't evil, buying a domain name this good and only advertising their browser with it. Who knows how much money could have been stolen if someone had used [this domain] to make a counterfeit version of the 12306.cn site instead!
Indeed, remaking 12306.com as a fraudulent ticket purchase site would be a goldmine, although likely also a lightning rod for police attention once it was discovered. Whether what's there instead is really an ad for Qihoo or some other strange thing is going on isn't clear. But "Brenda" (the weibo user above) does have a point: why didn't the Railway Ministry just register the 12306.com name itself? After all, it spent $52 million on the damn site; the Ministry couldn't spare another $10 for the dot com domain, too?