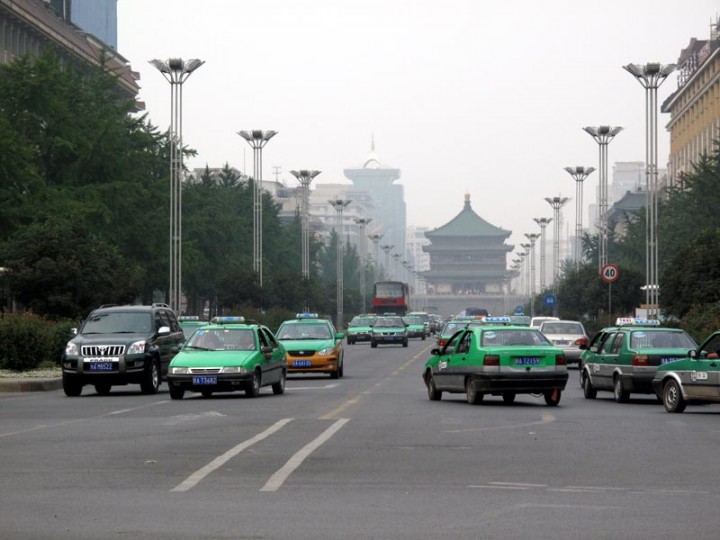 After months of burning through cash, the endless subsidies for China's taxi riders using Didi Dache or Kuaidi Dache appear to be winding down now that Didi Dache recently revealed data charting its growth in early 2014.
Over the past few months, a heated battle has emerged between the country's top taxi-booking apps, which connect taxi drivers with customers looking for a lift. Both companies received a boost from their respective financial backers when they each hopped on to popular Chinese mobile payment services. Tencent added payment and functionality for Didi on WeChat, China's popular chat app, while Alibaba integrated Kuaidi into Alipay Wallet, its mobile payments app. Both Didi and Kuaidi fought for market share by offering cash rewards for drivers and passengers who booked via the apps – resulting in massively discounted rides on the consumer side, and massively higher net fares on the driver side.
The latter initiative caused a media frenzy in China and led many consumers to consider the negative effects of the apps' growing popularity – would old people without smartphones be left cab-less? Would drivers be too busy booking their next ride to drive carefully?
Those issues might grow more pressing, as Didi's massive growth during this period indicates that it will be here to stay.
Didi's big boom
According to data released today, in early January the company was reporting daily bookings of about 350,000 per day. It had over 400,000 drivers registered on the app and coverage in 30 cities. 22 million smartphone owners had passenger-side accounts.
By March 27, the company was reporting daily bookings of over five million per day. Coverage expanded to include a total of 178 cities, and over 900,000 drivers had registered accounts on the app. Passenger accounts jumped up to 100 million.
This means that in roughly a 90-day period, daily bookings have increased more than tenfold, driver registrations have doubled, and city coverage has tripled.
Of course, all of this growth came straight from the pockets of Didi Dache and its investor, Tencent. Unlike other transportation network companies like Uber and Lyft, Didi doesn't take a cut of the transaction for each ride – ride fares are determined by the meter (and enforced by local laws in each city), and payment is conducted in cash or through WeChat Payments. So for all Didi's growth in market size, it hasn't made a dime to date. This has led the Chinese media to dub the competition between Didi and Kuaidi a "battle of burning money" (shaoqian dazhan).
Perhaps because of the public's obsession with the competition between Didi and Kuaidi, Didi also revealed the total amount of money it spent on the subsidies: RMB 1.4 billion – about US $225 million.
See: 10 taxi apps you can use across Asia
The end of the ride?
Kuaidi Dache has yet to release equivalent data revealing its growth during the subsidy frenzy. Back in late 2013, data from iResearch indicated that Didi Dache occupied about 50 percent of the market for taxi-hailing apps, and while Chinese media seems to point to Didi as the market leader, we've yet to see strong data showing who the winners and losers are. In any case, if Kuaidi doesn't show its numbers soon, the public will likely assume the worst.
Qianjiang Evening News released an infographic charting the subsidy battle that Didi and Kuaidi fought throughout the season. It's a nice example how Alibaba and Tencent will go tit-for-tat, or yuan-for-yuan in this case, when it comes to duking it out over customers.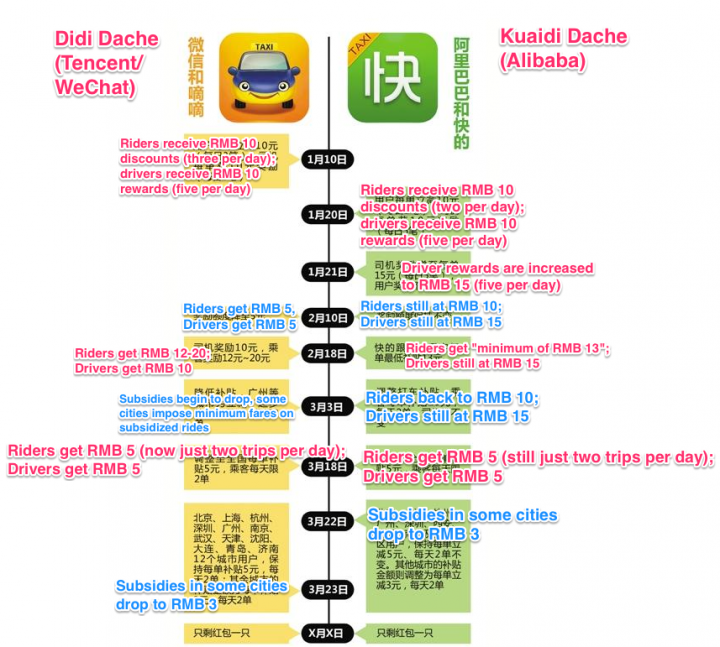 (Source: finance.chinanews.com)
Editing by Steven Millward; top image via Flickr user thewamphyri