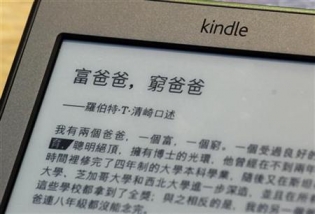 Amazon's Kindle is a huge hit overseas, but it still hasn't even been officially released in China. Of course, there are plenty of gray-market Kindles available in China's electronics malls, but since there is no official Chinese Kindle Store, it can be difficult for users to subscribe to Chinese-language content for their devices. What's a Chinese Kindle user to do?
One option is to turn to a startup like iKindle, a subscription service that lets users set up automatically-syncing (via wifi or 3G) subscriptions to a number of publications. The options range from traditional publications like The Financial Times (Chinese) and Southern Weekend to online news sources like TechWeb and TechCrunch to specially-curated reading lists, like Douban's weekly classic literature snippets or Yeeyan's collection of translated articles from the foreign press. The current selection is definitely heavy on tech reporting and news (rather than literature, short stories, humor, or whatever else) but presumably the selection will grow with time. The same team does also offer a separate ebook-selling service, too.
Setting up iKindle is fairly simple; it just involves tweaking a couple items in your Amazon settings and on the machine itself. After that it works like any other Kindle subscription: it shows up automatically and it looks very nice and you can read it. On a free plan, you can subscribe to two news sources; after that the company offers tiered subscription plans. For 3 RMB a month ($0.47), users can subscribe to 4 news sources. For 4 RMB ($0.63) per month they can subscribe to 6 sources. Or users can select an unlimited subscriptions plan for 6 RMB ($0.95) per month.
As far as I can tell, all of the content iKindle offers is content that is provided for free online. But I can't imagine all of these providers are OK with their content being sold this way, especially since they can't make any money from advertisements if users stop visiting their websites because they now have a Kindle subscription. We have reached out to a few of iKindle's content providers to check and see if they're aware the service is using their content, and while we have yet to hear back, I can't imagine iKindle has partnerships with any of these companies because the numbers don't make sense. The New York Times, for example, is another subscription offered by iKindle, but its regular online subscription service costs per week more than three times as much as iKindle's most expensive option. There's simply no way that these companies all consented to sell their content, advertisement free, for such low rates. Even if iKindle was passing 100% of its revenue onto content providers, it just wouldn't be enough.
So what can we conclude about iKindle? On the one hand, it is providing a useful service and solving a real problem: Chinese-speaking Kindle owners don't have a good official way to subscribe to news content for their devices. On the other hand, it is almost certainly stealing its content to do so. While we can't condone stealing, it's worth pointing out that many of China's biggest internet services started out this way. Tudou and most other web video sites, for example, used to be rife with pirated content. As the sites grew and the investments came in, though, most of them eventually went legit; now, it's very difficult to find pirated stuff on Tudou.
Could iKindle follow a similar model? Perhaps if Amazon continues to not officially support the Kindle in China. There have been rumors the Kindle is coming to China floating around for a long time now, but the real thing has yet to appear. And even if Amazon does begin offering Kindle content on a Chinese site, iKindle could remain competitive as long as it could stay out of the courtroom because its prices are inevitably far lower than Amazon could afford. With China's tech sector as developed as it is, and IP rights becoming an increasingly high-profile issue here, I'm skeptical that iKindle can achieve much growth before its apparently-unwitting content providers take it to court. But I could be wrong. The startup is walking a path that many Chinese startups have walked before, and sometimes, it works out pretty well.