Yes, the Chinese have done it. Game two of Team DK and Invictus Gaming (iG) in the upper bracket of The International 2013 (TI3) lasted for a staggering 98 minutes and 58 seconds. That's around 2 minutes and 32 seconds longer of continuous DOTA 2 action than the previous record, and just a minute and two seconds short of being a hundred-minute match. The previous record was set around half a month ago during game three of the Corsair Tournament's lower bracket finals between Fnatic and Mousesports; the previous record for the longest DOTA 2 match was 96 minutes and 26 seconds.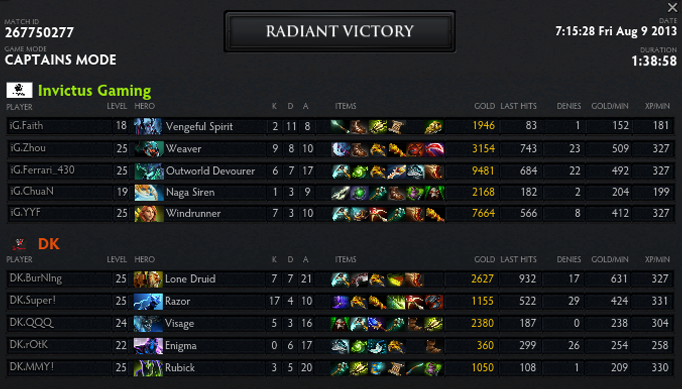 There was a single Divine Rapier from Invictus Gaming's Chen "Zhou" Yao on Weaver, which was dropped twice, being picked up by DK's Xu "BurNIng" Zhilei on Lone Druid and then by Luo "Ferrari_430" Feichi on Outworld Devourer. That was probably also one of the longest times that a Divine Rapier had been sitting on the ground after being dropped considering everyone scrambles for it as soon as its owner dies. The final score was 25-32 in favor of DK, but being won by iG. The series, however, was won by 2-1 by DK. In last year's The International, iG won the gold while Team DK finished fourth.
Schedules, updates, brackets, and results of The International 2013 are available via the official website. You can also watch live games via multiple streams or via DOTA TV by downloading the Steam client and installing DOTA 2. The International 2013 is free to watch in-game and does not require a game ticket.
(Editing By Steven Millward, Anh-Minh Do)