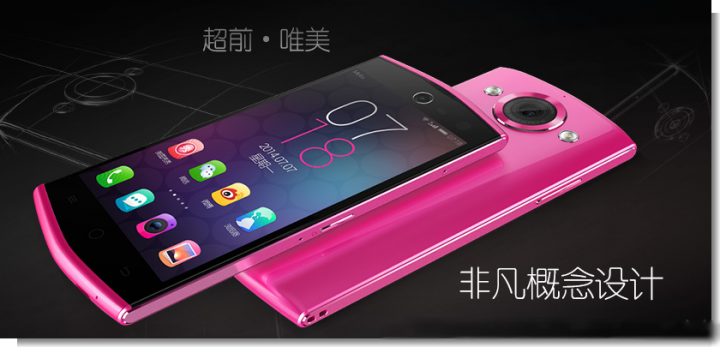 Chinese smartphone maker Meitu (not to be confused with Meizu) yesterday revealed its latest flagship phone, the Meitu 2. The new Android smartphone has made quite a splash on China's Twitter-esque Weibo, topping the most popular tech-related topics of the day.
On paper, the Meitu 2 fails to impress when compared side-by-side to its domestic competition like the upcoming OnePlus One and Xiaomi Mi3S. It comes loaded with the company's own MeiOS Android skin, and packs a MediaTek octa-core 1.7Ghz processor, 4.7-inch 720p screen, 8/16GB internal storage with SD slot, and 2GB RAM. Oh, and it doesn't support 4G connectivity. The price won't do it any favors, either at RMB 2,200 (US$352) – RMB 200 ($32) more than both its aforementioned peers.
But maybe top-notch specs aren't the point here. In the male-dominated mobile industry, it's easy to assume smartphones are gender-neutral. But in reality, nearly every aspect – OS, apps, hardware, design – originates in the minds of men who never take gender into account. Meitu's two co-founders, Wuxin Hong and Cai Wensheng, are both men, but the Meitu 2 was clearly crafted for women; and I mean real girly-girls.
For example, Meitu's ideal female customer loves taking selfies. That's why the smartphone sports solid 13MP Sony cameras – on both the back and front. Color options for now are limited to a simple white or a glaring hot pink, and the phone's shape – while not exactly thin – features soft, rounded edges. Combined with the pinks and purples that come on the default MeiOS, the whole thing looks ready to burst with flowers, hearts, and bubbles.
But are women willing to sacrifice quality in other components for a phone more tailored to their stereotypical use case? We'll remain skeptical until we see sales figures, but it's refreshing to see a phone maker get in touch with its feminine side in any case.
See: 15 new Asian smartphone makers hoping to crush Samsung and Apple
Meitu originally started out as a software developer before making the jump to hardware. The company created a beauty photo editing app for women that now has over 23 million monthly active users on desktop, mobile, and browser, along with a couple other photo and video apps.
All of the company's products, virtual and physical, also lean toward a girly audience, and the company has doubled down on the gender-specific strategy in this second rendition of its flagship smartphone. It's not the only one aiming at the female market, either. Check out this jewel-encrusted dazzler from Sugar.