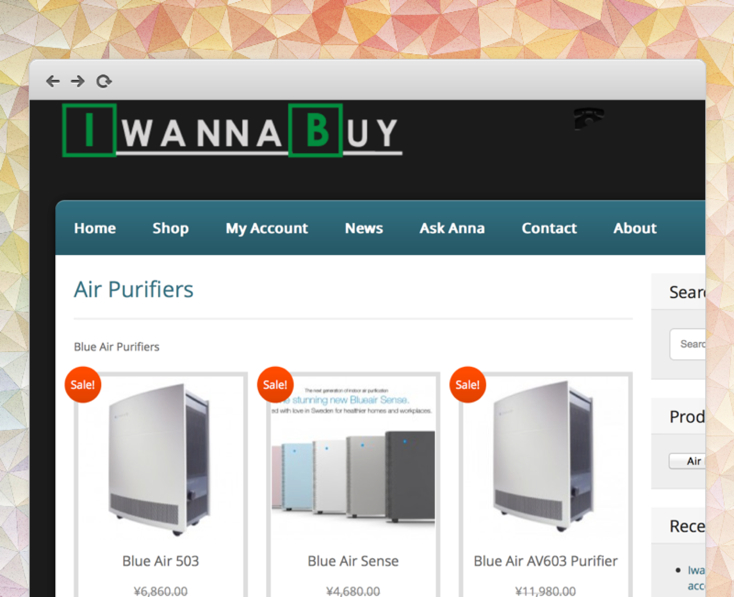 With China's e-commerce market set to be worth at least $175 billion this year, it's a massive market where a new entrant will struggle to stand out. But Iwannabuy won't have the same trouble, as it rocks two interesting niches: it caters to expats living in China, and it supports payments in Bitcoin.
Bitcoin is a digital currency not tied to the usual government regulations, and which is now traded on the new Mt. Gox exchange in Tokyo. Beijing-based Paul Afshar explained to us that for his e-commerce startup, which sells a small selection of items as diverse as air pollution filters, juicers, and music festival tickets, the decision to accept Bitcoin is shaped by its user-base:
We started out accepting PayPal payment and cash on delivery (COD), which is very important for Chinese customers, and we continue to accept these payment platforms, complemented by Bitcoin payment.

However, many of IwannaBuy's customers don't have online banking enabled for their Chinese bank accounts, or have encountered problems with using PayPal or AliPay for online payment. In Beijing, this means they have problems buying the pollution products we sell, including indoor air purifiers and anti-pollution masks, to protect their health from poor air quality in the city.

Bitcoin, with a growing user base in China, cannot be ignored. For an e-commerce platform like ours, it offers a simple payment system that can be accessed easily both from a computer or a mobile device.

While Bitcoin payment is still a nascent and developing platform, we want to help pioneer its use in the world's biggest consumer market.
"No currency conversion issues"
Paul adds that Bitcoin offers the benefit of there being "no currency conversion issues, unlike paying with a US credit card" – again, another useful feature for a mixed, global user-base. So far, Iwannabuy has about 10,000 shoppers, mostly in Beijing, in the 16 months since it launched.
Beyond those quirks, site itself is a fairly conventional online discount site. Paul says he spotted "a niche in the market for providing quality of life products to expats living in China". And so the site is only in English. But Paul notes that the pollution woes in Beijing as well as the recent dead-pigs-in-the-river scandal in Shanghai have brought some Chinese shoppers to the site in search of quality anti-pollution equipment, like water and air purifiers. Encouraged by that, the Iwannabuy team is building a Chinese iteration of the site. Along with a Chinese co-founder, the startup is now a team of five.
Of course, using Bitcoin has its risks for a business – not least in the wild fluctuation in the digital currency relative to the US dollar. Paul explains the site's approach:
The price of Bitcoins has fluctuated greatly in 2013, with the (Chinese) RMB Bitcoin price quadrupling since the beginning of the year. If we accept Bitcoin payment, there's always going to be a price fluctuation risk. Fortunately, payment providers like BitPay help you mitigate that risk by giving you the option to choose the proportion of payment made in Bitcoins and in hard currency, and also allowing a merchant to "cash-out" without too much hassle.