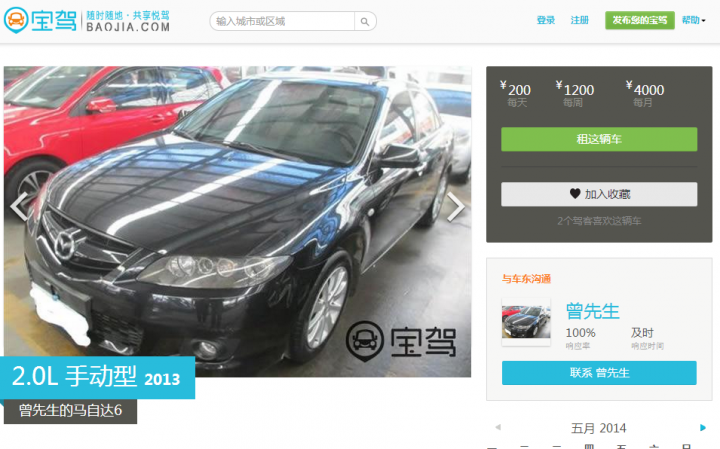 Beijing-based peer-to-peer car rental startup Baojia announced today it received US$5 million from undisclosed angel investors.
Baojia lets users lend and rent their idle automobiles, but it's only available in Beijing for the time being. Lenders get at least RMB 1 million (US$160,000) of liability insurance and can decide who can and can't rent their vehicles along with the price. The startup's iOS and Android app lets renters find the available cars nearest them. The site also offers long-term rentals for those who need it.
Sina Tech reports Baojia has over 1,000 cars listed on its site. In total, Beijing alone has more than 5.2 million private cars, and demand is growing. Services like Baojia can help feed that demand while reducing traffic congestion and emissions. The site lists 16 more cities in China that it plans to expand to in the future.
Sina Tech also cites a survey saying 17 percent of Chinese people living in tier-one cities are willing to share their idle vehicles, so trust is still a major issue here.
See: Reinventing four wheels: 14 apps that are changing the way we get around
Rival P2P car rental service PPZuche, the Chinese version of Singaporean startup iCarsClub, also operates in Beijing as of October last year. PPZuche appears to impose much stricter requirements on drivers than Baojia – at least two years driving experience, no more than three demerit points, and no car accidents in the past three years. Furthermore, PPZuche installs a special hardware device that provides keyless entry and GPS tracking. Baojia is much less sophisticated: drivers can have up to nine demerit points, face-to-face contact with the car owner to hand over the keys is required, and no added hardware is necessary.
(Source: Sina Tech)