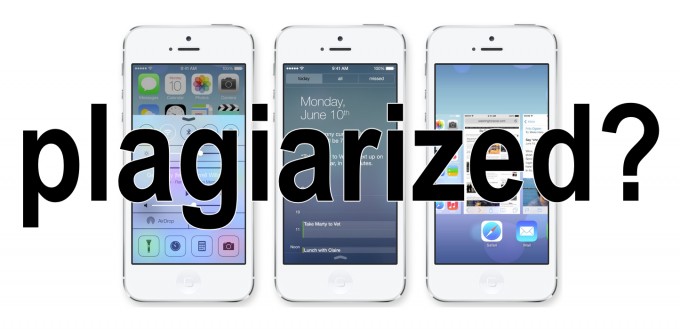 At yesterday's WWDC conference, Apple unveiled its brand new mobile operating system: iOS 7. It's a slick-looking beast, no doubt, but in China, the OS reveal raised more than a few questions about Apple's innovative abilities and whether aspects of the OS had been, ahem, inspired by other software.
Some net users are suggesting that the Cupertino-based company has taken more than a few pages out of Meizu's design book. The Chinese mobile phone company's OS Flyme features a very simple, "flat" look that Apple's new iOS version does resemble a bit. Others have said it's copying Android more generally, and I must admit that during WWDC several TiA team members also noted the similarities between Apple's new iOS aesthetics and Google's white-space-and-thin-fonts design style. And still others, including this Apple fan, think it bears more than a passing resemblance to Windows Phone, too:
Apple, I'm disappointed in you! What have you done to iOS 7? Android + Windows Phone? I don't know whether I should say it's copying or just borrowing, but taking calls, unlocking, the photo albums, and even the back end stuff are all like Windows Phone! Unbearable. Until you come out with something better, I think I won't be using iOS anymore.
In fact, the cries of copying were widespread enough that major tech portal TechWeb put the question to its readers in a front page poll. As I write this, the poll has already collected more than 2,600 responses and it's sure to be more by the time this post is published. The poll question doesn't specify a particular source Apple has copied from, and instead asks generally if readers feel the OS has copied from others. Clearly, most do as nearly 60 percent said 'Yes':
Of course, being a copycat isn't necessarily a death sentence or anything. As one clever weibo user pointed out, Steve Jobs once called Android a copy of iOS, but that hasn't stopped the platform from going on to dominate the global smartphone market.
So what do you think? Is iOS 7 just bits and pieces of other mobile operating systems, or is this an original Apple creation?