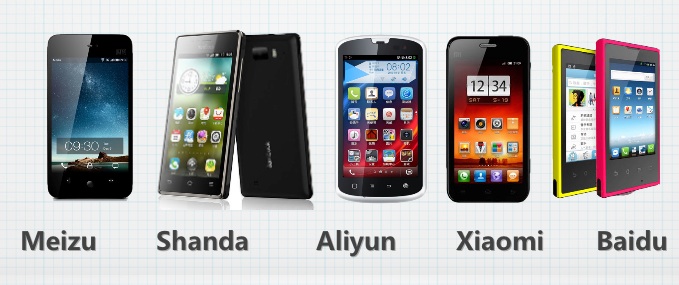 China's web companies want to go mobile. And to that end, many are creating their own phones that carry their own mobile platforms, serving as a vehicle and a showcase for their own apps and services. The likes of Xiaomi, Baidu, Alibaba (with its Aliyun OS), and Shanda are pioneering this, and many more will follow.
So let's take a look – see our colorful graphic below – at five homegrown mobile platforms from China that are packaged in their own hardware. The afore-mentioned four web companies are on the list, and I've thrown in Meizu as well, since it has transformed itself so well in the past couple of years, and is building an ecosystem of its own too. Scroll down below the table for a summary of why they're significant, and why both local and global handset makers – from ZTE to HTC, Huawei to Motorola – should be very, very worried about the consumer familiarity and brand pulling power of these affordable smartphones.
After all, telcos and old-skool handset makers have a tendency to fill their smartphones with bloatware and other crap. But these new devices from the more savvy web companies come brimful of apps that look great and which you'd actually want to use for, say, music-streaming, group messaging, or cloud notes syncing.
Here's our table, comparing the five hot phones spec-by-spec:

Meizu MX (dual-core)
Looking at the cheaper dual-core model, not the newer 4-core version, the Meizu MX was launched with Android 2.3 and Meizu's attractive Android UI skin, which will soon by updated to the more evolved Flyme OS that Meizu is building as its ecosystem. As such, it has the Flyme cloud backup service and its own app store. Here's a review of the MX dual-core from Engadget.
Shanda Bambook phone
Launched on June 6, the Bambook smartphone is the first ever phone from Shanda (NASDAQ:SNDA; FRA:RZP), makers of the Bambook e-reader. It's also based on Android – though the older 2.3 – and comes with neat cloud apps and supports Shanda's Yuncheng e-book market.
Aliyun OS – represented by the Haier Zing
Aliyun OS is the big play for mobile and mobile commerce from Alibaba, the country's e-commerce giant. Launched last summer, it is not based on Android, places an emphasis on web apps, and is also loaded with useful – and mostly cloud-oriented – apps. It's a tough sell, though, up against so much competition. Earlier this month, Haier (SHA:600690; HKG:1169) stepped in as a new hardware partner with the cheap Haier Zing.
Xiaomi M1
Xiaomi has had the biggest sales – and social media – success with its first-ever phone, the M1, generating huge buzz and really selling people on the idea of a good-looking, well-localized way of enjoying Android. Now looking the oldest of the bunch, Xiaomi is surely due to unveil a new version later this summer. It is also due Android 4.0 – replete with MIUI overlays – soon, and I'm surprised it hasn't gotten an official update from MIUI (also a Xiaomi venture) yet. See our video review of the Xiaomi M1.
Baidu Yi – represented by the Changhong H5018
Baidu's (NASDAQ:BIDU) Android-based OS is a showcase for its many social and practical apps, and it now has two very different phones to carry it. At the higher end is the Dell Streak Pro D43, while a cheaper option comes in the form of the newer Changhong model which costs a mere 850 RMB ($135). Admitedly, its lower specs – it's the only one in the line-up to have a sub four-inch screen – make it look a little odd in this company, but I reckon it has more of a chance of gaining traction than the Dell model.
---
Note that the brand-new Qihoo AK-47 (such a dumb name) is excluded for now, but will be featured when we update this table later in the year. Netease might have its own contender by then too. Stay tuned!