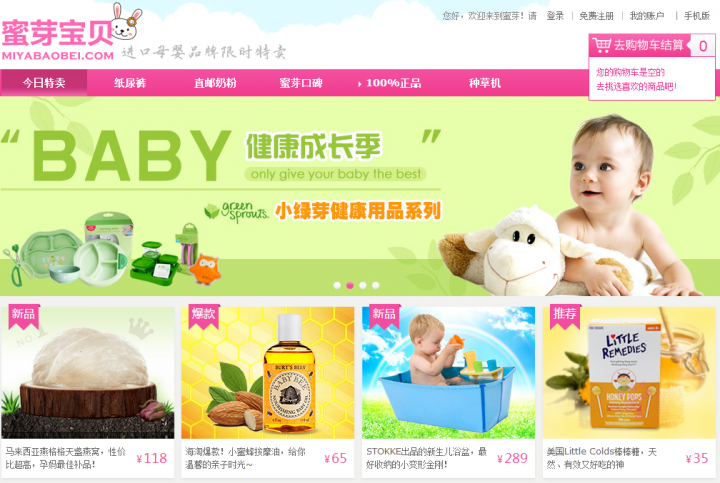 Infant care online retailer Miyabaobei has just received a US$20 million series B round from Sequoia Capital, according to 36kr.
The Chinese startup previously took a RMB 10 million (US$1.6 million) series A round from China Renaissance K2 Ventures.
Miyabaobei originally opened its shop on Taobao, China's biggest online shopping marketplace. By 2013, the store received more than 1,200 orders per day, and 44 percent of customers are monthly repeat buyers. At that point, Miyabaobei decided to strike out on its own.
Doing so solves a major pain point that customers have when buying baby products on Taobao. Much of the store's items come from overseas because Chinese parents often distrust local brands, especially for items like infant formula. Taobao doesn't exactly maintain the strongest reputation for selling genuine goods, so a separate estore seems more trustworthy.
See: Suning launches online store for overseas childcare products for parents who don't trust Chinese brands
The site also limits the amount of these products that customers are allowed to buy. This prevents hoarding during high volume seasons or if food safety scandal news reports come out, which can cause people to flock to foreign products. As a result, the available supply is much more steady and items are likely to be in stock year-round.
(Source: 36kr)