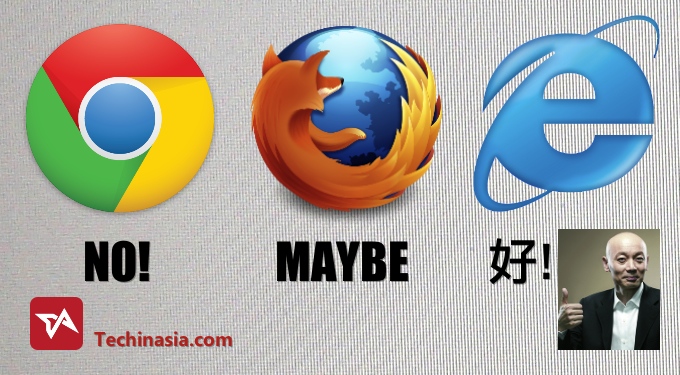 One Chinese bank has set off a torrent of complaints among Chinese web users after it admitted via social media that its online banking system lacks full support for browsers other than Microsoft's Internet Explorer (IE). That rules out the likes of Google's Chrome browser, or Mozilla's Firefox. To make matters worse, that bank, ICBC (HKG:1398), has an e-banking site that only encourages users to login via the ancient IE6, IE7, or IE8. Not the more recent IE9 or IE10 versions.
But the outburst – nicely chronicled by the IT Times – caused by that major bank has served to highlight the dire situation among other Chinese banks in terms of which web browsers they support. It's not just a matter of choice, but one of security – something essential to online banking. Although Chinese web users do indeed prefer the Windows default, IE – or some IE-based local bits of software, such as Qihoo's dodgy 360 Safe Browser; or Baidu Browser, the effort from China's biggest search engine – the lack of wider support is proving annoying to many. For example, someone on Chrome is likely to find that the login box fails to load for certain banks, or that the two-step authentication fails to works properly – both of which effectively make Chrome (or Firefox) impossible to use. It's a similar tale of woe for the (very few) Chinese who use Macs rather than Windows machines.
ICBC has been the most under fire in this incident, which was set of by the ICBC e-banking official Weibo account replying to a customer, telling them to use a way outdated browser. Further inspection of the ICBC login page in the Firefox browser indicates that it instructs its customers to "use Firefox 10.0.x" – even though Firefox is now up to version 14 for most people. But at least that bank does actually support Firefox. Most do not.
Only ICBC and China Construction Bank support usage of some version of Firefox for full online banking features. None fully support Chrome. On Apple's Mac OS X, only two banks – the afore-mentioned ICBC, plus China Merchant's Bank (SHA:600036) – now allow Mac-loving customers to use all the features so long as they install a Safari extension (pictured right) and have OS X 10.6.8 (Snow Leopard) or higher.
One glimmer of hope comes from China Merchant's Bank (SHA:600036), which now not only supports the Mac, but also has a new iPad app for its e-banking clients.
Possible workarounds, such as using a Firefox or Chrome extension like IE Tab, tend not to work, I've found, so Chinese bank customers will always need to have an old-ish version of IE on hand. That'll become tricky once the new Windows 8 launches in October. The cause of all this mayhem and confusion is Microsoft's ActiveX technology which can create sort of virtual add-ons that many websites use to execute some extra features.
China's usage of the decade-old IE6 browser today stands at 21.3 percent (down from the 27.9 percent I remember it was at in December last year). That's according to Microsoft's own IE6 Countdown website which is encouraging users to upgrade.
[Source: IT Times – article in Chinese]