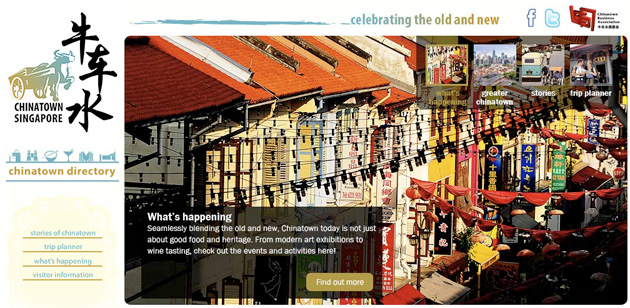 Young people in Singapore now have more entertainment places to go to as Chinatown is embracing more interesting attractions and spreading the words through Facebook and Twitter. Chinatown Singapore is turning into a hip place where young Singaporeans can enjoy various activities like spas and restaurants and learn updates through new media.
The chairman of Chinatown Business Association (CBA), Mr. Wong Chi Keong stated that they would renew the place to keep up with the younger generation. With new attractions and presence on social media, the improved Chinatown seems to be growing in popularity among young Singaporeans (at least on Facebook).
Singapore Chinatown has started the Facebook group since two months ago and is now the top Chinatown Facebook group in the world as it hits 7,200 members. It has also surpassed other local attractions on Facebook such as Bugis Street and Little India .
Besides Facebook and Twitter, Chinatown also has a refreshed website which contains trip planners and information on places to dine, shop and rest. The site also features YouTube interviews of old Chinatown residents to help young Singaporeans understand the history through first-hand experience. I particularly like Mdm. Wan Lau Fong's interview. Take note that the video is in Cantonese but with English subtitles.
It's indeed refreshing to see Chinatown Singapore maintaining its tradition while keeping up with the younger generation through social media. It's a good start and I believe there will be more improvements in the future. Kudos to CBA, I thoroughly enjoy browsing through your website.
[Via Straits Times]