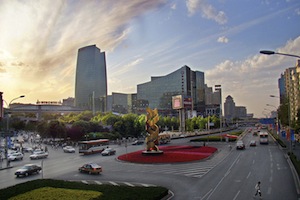 Last week posted about our recent visit to Zhongguancun while we were in Beijing. Commonly referred to as China's Silicon Valley, this high tech area houses big name companies like Baidu, Sina, Tencent, Youku, and Lenovo to name just a few.
According to Xinhua, China has approved something called the 'Development Plan for the Zhongguancun National Innovation Demonstration Zone (2011-2020).' This plan aims to boost Zhongguancun's total revenue to 10 trillion RMB ($1.54 trillion)  by 2020, which would be an 85% improvement on the 1.55 trillion RMB ($239 billion) from last year.
China hopes that this new development phase can put drive innovation in the country even further moving forward. A representative with the Zhongguancun Science Park stated:
Zhongguancun has entered a new phase of development…I think in the next 20 years Zhongguancun will have the three top technology industry clusters in the world and will form a grouping of the world's top technology entrepreneurs.
Back in February we cited Kaiser Kuo who said that Beijing was the most likely candidate to become another Silicon Valley, as opposed to just China's best attempt. This new development plan certainly goes a long way to solidifying Beijing chances.
[Zhongguancun National Innovation District Development Plan: Original PDF in Chinese | Google Docs | Machine Translation]
Photo: Wikipedia