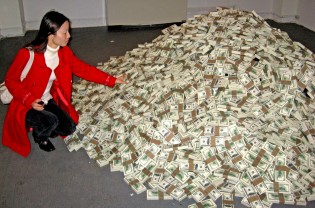 Recently, China's Ministry of Industry and Information Technology (MIIT) announced a plan to permit telecom companies to lease out their networks to virtual telecom operators, opening the doors to the telecom industry for private companies that have until now been shut out out the market. And what a market it is! Estimates indicate that if the market for virtual telecoms develops properly it could be worth more than 70 billion RMB ($11 Billion) in 2015.
A virtual telecom operator is a private company that leases the right to use telecommunications hardware owned and controlled by another company (in this case, one of China's "big three" state-owned telecoms). Getting a virtual telecom operator license would allow Baidu (for example) to lease rights to use telecom equipment owned and operated by China Mobile (for example) to operate its own Baidu-branded telecom services. So, in the future, instead of signing up for China Mobile, users would sign up and pay for Baidu Mobile, but their calls would still be routed through China Mobile-owned hardware, it's just that Baidu would be paying China Mobile for the privilege of leasing it.
Although you would expect internet companies like Baidu and Tencent to be foaming at the mouth at this kind of opportunity, China Mobile Internet Industry Alliance operations director Li Yi told Investor that in actuality, the companies most actively pushing for and pursuing virtual mobile telecom operator licenses so far had been tech retail giants like Suning and Gome. "It's a very interesting phenomenon," Li said.
Of course, there's a chance that none of this will matter. MIIT's proposal is still open for public debate. After that period ends on February 6, authorities will make a final decision about whether or not to actually grant virtual telecom operator licenses. If they do decide to go through with the plan, the first licenses will be awarded this June.
It's a groundbreaking policy initiative that would allow private companies and private investment into the state-controlled telecom industry for the first time ever (though state-owned firms would maintain control of the telecom hardware). But it will also be interesting to see what companies are able to make a dent in what's expected to be a massive market when and if the ball really gets rolling. Everyone expects internet companies to be the virtual telecom giants, but could retail leaders like Suning really be swooping in faster? If MIIT approves the plan, there will be a very interesting race coming, and probably some very competitive battles for market share in the newly-opened space.
(Investor via Sina Tech, image source)