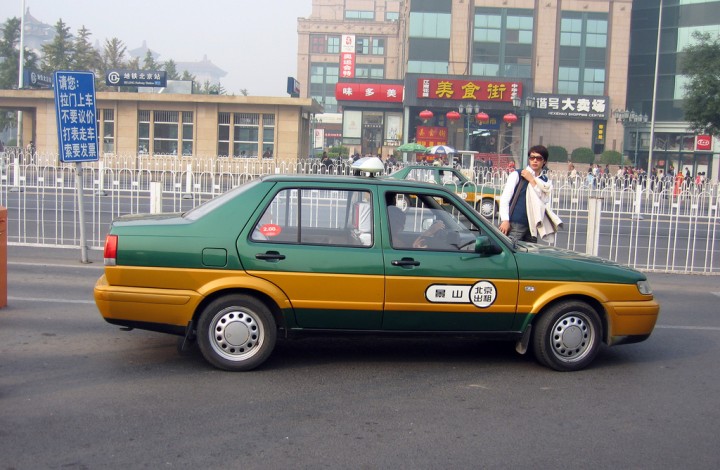 China's most popular taxi-hailing startups have long suffered jabs from government bureaus, as is common among transportation network companies (TNCs) around the world. But now, thanks to a proposal from China's Ministry of Transport, startups that connect passengers with professional drivers might face their biggest blow yet.
China.cr.cn reports that the ministry drafted a document suggesting Didi Dache, Kuaidi Dache, 96106 (the 'official' taxi-hailing app for all of Beijing's dispatch companies), and all other vehicle-hailing apps unify under a single platform and share data.
The document states in section two (rough translation ours):
Providing hailing functionality and service is one of the key aspects of incorporating data into the taxi industry. Every local transport bureau ought to devise, plan, and research a united and open information management system for the exchange and sharing of data. The sharing of data will include number of taxis, basic driver information, geographic information, car vacancies, quality of service, electronic bookings, waitlists, responses, etc.
Later, the bureau proposes that all taxi-hailing services, including phone lines and online reservations, unify under a single driver-side platform. Section three states (rough translation ours):
Every local transport bureau ought to strengthen the oversight and single, united entry-point for its cab summoning services, and gradually realize data-fication of phone summoning, smartphone app summoning, online reservations, and every other method of vehicle summoning… 
Can unification and competition coexist?
What might the "unification" of various taxi-hailing apps mean for Didi Dache and Kuaidi Dache? It's hard to know decisively without more specific regulations, but one can still carve out the basic implications should such a policy carry forth.
For one thing, if drivers receive all summons from Didi, Kuaidi, or other like-minded services through a single, "unified" driver-side app (or likely the "official" dispatch device), then Didi and Kuaidi in effect become facades, or shells. One might request a driver on Didi and get a driver from Kuaidi or another app. Moreover, depending on the organization that has oversight of the dispatch device, bookings might be unfairly given to passengers who book through the dispatch-sanctioned app or service, while passengers who book through Didi or Kuaidi will get ignored.
In addition, forcing taxi hailing apps to share data neuters competition. For transportation network companies, data provides the foundation of each service's evolution. To draw up a hypothetical example, Didi Dache might draw from its data to improve the efficiency with which it connects passengers with nearby drivers – making sure that the very first driver to match up with a vehicle request is indeed the closest one. If competing taxi-hailing apps suddenly gain access to competitors' data, then they can easily copy those iterations. It's like playing poker with the cards on the table.
Of course, since the dispatch companies tend to be ill-equipped to collect and process data – they do dispatching, not nerdy startup-y app development – they're the organizations most likely to mooch off of the "shared data" collected by Didi and Kuaidi.
See: How Uber's trek across the US will set the course for its run in Asia
Tech in Asia reached out to representatives from Didi Dache to get their take on the proposal. They told us, in a slightly tongue-and-cheek response on WeChat, that while they will abide by rule of the law, they believe that taxi-hailing apps ought to be subject to market forces first and foremost.
Looking forward
This isn't the first time that Chinese government bodies have jabbed at Kuaidi Dache and Didi Dache. As Techweb notes in a lengthy editorial, last August the Beijing municipal traffic bureau mandated that Didi and Kuaidi cease the bidding and voice-summoning features of its app.  Those restrictions ultimately amounted to little more than a brief experiment, and the features returned just as soon as they disappeared.
Moreover, last April, the Suzhou municipal government banned the use of all taxi-hailing apps that were unaffiliated with the state-affiliated dispatch firms lest these startups agree to join the city's "unified platform." Techweb states that Didi backed out, while Kuaidi complied, though it became a mere shell in the process.
Didi Dache and Kuaidi Dache are no longer ramen noodle startups. Didi Dache received over US$100 million in funding from Tencent last January, and Alibaba has pumped an equally large amount of money in Kuaidi. Last April, at the height of a months-long price war, Didi reported it was booking 5 million rides a day across 128 cities.
It's not clear if these proposals will be implemented, and what might happen to China's taxi-booking startups in the process. In any case, every country and city must face the coming tide of transportation network companies sooner or later. In cities like Paris, this has meant violent protests from disgruntled cabbies. In cities like Seattle, this has meant arbitrary laws that neuter the TNCs ability to operate. What's next for China's TNCs? Maybe no smashed car windows, and maybe no outright bans – just the gradual dampening of everything that makes a private company competitive in the free market.
Editing by Paul Bischoff, top image via Flickr user Mike Chu