Update: Codoon's co-founder, Paul Shen replied. See below.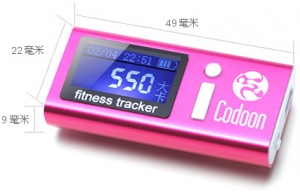 China's online gaming company,  Shanda has invested in Codoon.com, an online fitness social network. The investment, as reported by our friends at Marbridge Consulting, was of 8-figure sum in yuan (at least US$1.5 million).
Codoon.com has a unique business model. While most social networks rely on ads, Codoon sells fitness device. This fitness device tracks users' calorie consumption, motion (walking and jumping), distance travelled and even quality of sleep. Users can also synchronize and share these data to their network. The device has so far tracked over 300 million meters in distance and 20 million kcal in calories.
The fitness social network start-up is also looking for alternative revenue sources as its online community continues to grow in numbers. Codoon was founded in October 2009 and had previously received RMB 600,000 in funding from the National SME Technology Innovation Fund in China.
Paul Shen, co-founder of Codoon, explained to us via email that the investment would be used for the following three key activities:
1. Develop more network fitness gadgets
2. Develop iPhone, Android and mobile client and fitness application
3. Marketing
Unfortunately, the exact investment amount cannot be revealed. Shen also said that he is feeling indifferent after the investment. I guess working hard and producing result are his main focus now. Stay tuned as we follow up with Codoon.com.
Codoon isn't the first social network site for fitness enthusiasts. SixReps, an Indonesia-based fitness social networking site is also gaining attention from both users and investors (I heard). SixReps, for now, is fully focused on building its online community.