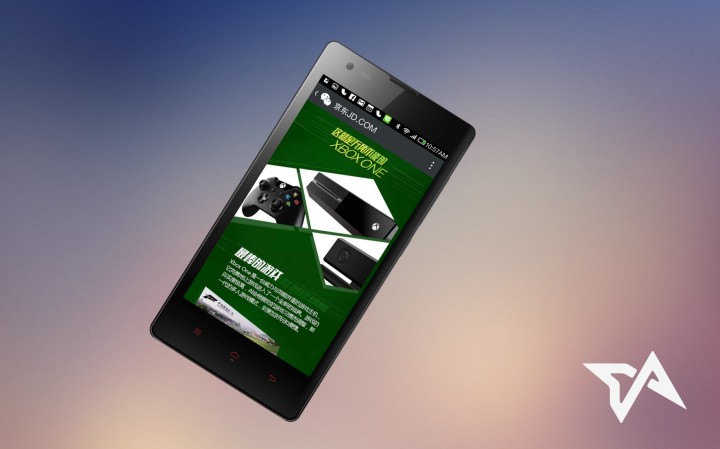 This morning, Chinese e-retailer JD announced it has attained exclusive rights to accept China's first pre-orders for the Xbox One. But gamers who open a desktop web browser and input JD's URL won't be able to snag the console – instead, the company will accept orders exclusively through Tencent's WeChat and Mobile QQ apps, from July 28 through July 30.
"Through our partnership with Tencent, Chinese consumers are increasingly able to enjoy the JD.com shopping experience directly on China's most popular mobile communications platforms," says Shuang Du, vice president of JD, in a statement. "We will continue to focus on providing the most convenient channels for Chinese consumers to purchase authentic products through their mobile devices."
JD trails behind Alibaba's Tmall when it comes to large businesses-to-consumer ecommerce in China. According to Observer Intelligence, 50 percent of total online business-to-consumer ecommerce sales for the first quarter of 2014 (this excludes Alibaba's Taobao) came from Tmall, while JD nabbed a respectable 23 percent of the total. However, JD and Tencent have a tight relationship – last March, the latter took a 15 percent stake in the former just prior to its IPO, marking a mutual commitment to turning WeChat (known domestically as Weixin) and JD into powerhouses for mobile shopping.
Given that the Xbox One will be the first-ever console available for legal purchase in China, the deal with Microsoft is a nice get for Tencent and JD, who can be confident that eager gamers will purchase the device through Tencent and JD approved channels, rather than Tmall or other competitors. Tencent and JD can also train their users to shop more Tencent's mobile apps. 21 percent of purchases made during Alibaba's Singles Day sales blitz last year were completed on mobile phones, and a report from China's CNNIC revealed that the number of mobile internet users in Chine is surpassing the number of desktop internet users. Tencent and JD can leverage that trend by persuading consumers to buy more goods on smartphones, and roping in exclusive deals for hot products like the Xbox One is but one way to help kickstart this habit.