Ever wonder what China's video game market is worth? About 83.17 billion RMB ($13 billion), according to China's GPC, a committee that tracks and oversees the games industry, and gaming site 17173. That's the total amount the industry brought in in revenues this year, and it represents nearly 40 percent year-on-year growth. China's games industry is growing like a weed, and here's the chart to prove it: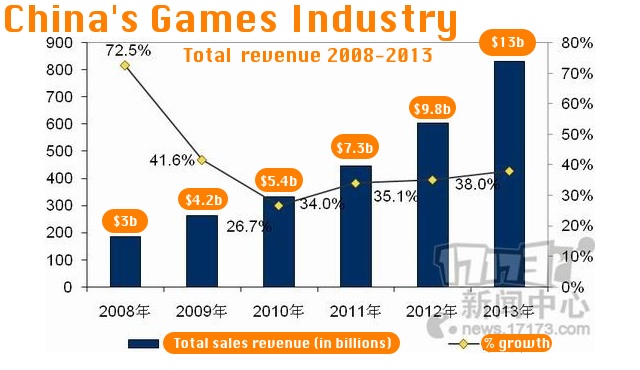 Impressive, right? And interestingly, the vast majority of that revenue (64.5 percent, or about $8.7 billion) came from client-based PC games. Browser games took in just over $2 billion, and mobile games generated even less than that (about $1.8 billion, or about 13.5 percent of the industry total). Social games took in less than $1 billion, and console games — unsurprisingly — barely even registered, generating about $15 million in total revenue.
The results may come as a surprise to those who see mobile as the future of gaming, especially in Asia, as they prove that overwhelmingly, China's paying gamers are still on the PC platform. In fact, if you count browser games as PC games as well (since they often can't be played easily on mobile devices), then PC games accounted for more than 80 percent of the revenue generated by China's games industry this year.
And there's more good news for China's game industry: domestic developers are getting stronger. While some of China's gaming revenue was still generated by games developed overseas, domestically-developed games generated $7.8 billion this year, which represents nearly 30 percent year-on-year growth. Here's another chart: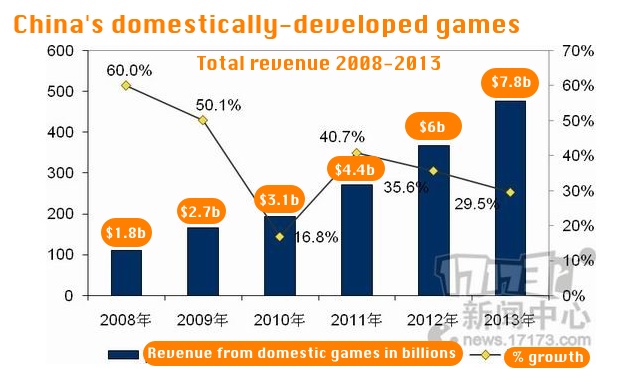 (via 17173)